MEC uses consumer motivations to inspire a rebrand
The retailer has redesigned its logo and is positioning itself as the go-to store for outdoor enthusiasts of different active profiles.
Mountain Equipment Co-op (now exclusively known as MEC) has generally done well at sectioning its stores to provide a comprehensible map for customers to navigate its sprawling selection of outdoor categories (such as climbing, biking, hiking and cycling).
But in its latest rebranding effort, which includes a new logo, campaign and brand platform called "Outsiders," the retailer has gone deeper than the product level, segmenting each activity in store with a set of motivations and aspirations.
In the cycling-specific section of its Toronto store on King St., for example, new signage in aisles nestled between racks of bicycles and a bike-fixing shop, speak to the various types of cyclists: from the "beginner" to the "day tripper" to the more seasoned "rider."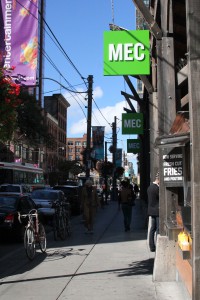 The imagery (produced by Toronto's Concrete Design Communications) is "far more diverse" than it has been before, says CEO David Labistour, noting that while it's still anchored in the outdoors, there are more urban scenes with people from a younger age group and various cultures. "If we want to inspire people to have an active lifestyle, we have to ensure we remain relevant to the new generation of younger people, [and different] cultures."
This categorization depicts the brand's new strategy of appealing to "people's motivations, as opposed to a specific activity," says Labistour. "We really believe the greatest contribution we can make to Canadian society is to actually get people active. To do that, we can't say there is one way to do it. We have to encourage everyone to do it their own way and through their own motivations."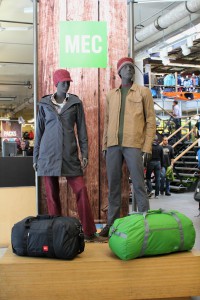 The brand has also updated its identity this summer, opting for a more streamlined and bright green logo and it's incorporated the "Outsiders" creative on MEC's e-commerce site (which, according to Labistour, accounts for 9% of its business, growing at a substantial 25% rate).

For now, the new signage will sit in three stores in North Vancouver, Toronto and Montreal, and eventually roll out to its remaining 14 locations across six provinces within the next two years. Also, to support the rebrand and drive customers to its stores, MEC has begun placing ads in news publications, bus shelters, bus wraps and billboards in the three core markets.