Kraft channels the spirit of a startup
Tony Matta, Kraft Canada's new CMO, talks about his new role, the changes that have taken place at the company since it split from sister co Mondelez and some key lessons he learned from his time in the U.S.
New Kraft Canada CMO Tony Matta recently returned to his home country following a two-year stint as VP marketing at Frito-Lay in Texas (he's also previously spent time at the company in the U.K.). Matta, former CMO of Frito Lay Canada, helped launched the famous Doritos "Guru" campaign inviting millenials to name a flavour and create a 30-second spot to promote it (resulting in 22% brand growth). Here, he chats about the future for Kraft.
What are your first impressions of Kraft's marketing department?
There's an internal rallying cry, if you will, that Kraft has the spirit of a startup with the soul of a powerhouse. [But] that's a very difficult combination to reach.
We're a 110-year-old company and we want to act like we just received seed money to try out some new ideas.
It's exciting in terms of the marketing, but also how we operate as a company. How do we take down the traditional silos of an organization so that you have a freer system of ideation, like a startup would?
When you don't have the resources to have seven different departments, you have to come together to solve problems. So we had an event called Maker's Day. It basically shuts down the company for the day and [we asked] all the employees, "Over a 24-hour period, what ideas do you have?" There were no rules.
This system, originally called FedEx Days because you deliver in 24 hours, is mostly done by technology companies and is right out of Silicon Valley. Google does it. We said, "We're a CPG company, so what? Why can't we do that?" And people responded.
[The event had more than 500 employees participating with almost 200 ideas, which included new product suggestions, process changes and cultural shifts.]
I know the brand and the category teams have started working on the ideas that came out of it.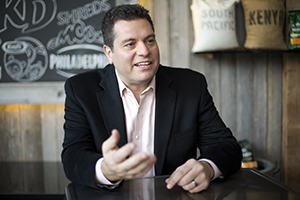 How else are you structuring the company to be like a startup?

We're encouraging brand-centric thinking. In the past we've probably been more format-driven, with [marketers] in charge of different formats of different brands, because that's how you align to production, versus thinking about a brand across whatever formats it's available in. Take coffee – you've got roasted, on demand, instant – [but now] you think about it as the whole system of Maxwell House or Nabob.

We're on a journey to transform the organization. There's so much history and accolades the "old Kraft" has earned, but we're trying to become magnetic.

People talk about social media and sharing – and we'll leverage all those tools – but if I can create something people are drawn to, then you're going to share or talk about that brand or creative. The old world was, "Okay, we've got a [product] and we need to launch it; we need 30-second TV and all of these different elements that form a 360 campaign," versus stripping it all down and saying, "What does this brand mean? What can it mean? And how can it rightfully take its place amongst the iconic brands of the world?"

[For example], you can walk into any social situation and mention Kraft Dinner to a 40-year-old, and they'll immediately be transported back to being 10 years old watching The Flintstones at noon.

So you've got all these wonderful brands that we need to start treating like icons. Icons are T-shirt worthy, tattoo worthy, shave into your head worthy.

We've got some big magnetic ideas coming. You should expect to see pretty big things from KD, Maxwell House, Nabob, Philly [cream cheese], Mio and Kraft Peanut Butter.

Is that the first we'll see from this organizational shift?

That thinking existed before I got here. I bought into it and I want to take it to a bigger place. If you look at this year's Mio work, it's awesome. Before Mio came along, a guy would never use [liquid flavour enhancers]. But now, with half the consumption coming from men, you know you've done something special.

The ads are getting U.S.-style numbers on YouTube, which is hard to do.

But the real tell for me is people saying "That's a Kraft brand?" They look at the advertising and they say, "That's not what I thought Kraft did," [because] the old Kraft was probably a bit more formulaic. The transformation's already started. We're just going to accelerate it.

How did your time in the U.S. influence your marketing and management approach?

The amazing thing about Americans is how big they think. You see it in everything they do, whether it's their politics or how entrepreneurial they are. I lived in Texas where every second person you bump into runs their own business. That "pull yourself up from your bootstraps and make something of yourself" attitude manifests itself in big established businesses.

In my former life [at Frito-Lay U.S.] we went to SXSW [with Doritos Jacked chips] because it was important for the brand to have a presence there. We built a six-storey vending machine. You could call that crazy but it also generated four billion PR impressions and launched an innovation in a very significant way.

What are some of the trends you were seeing in the U.S. that are starting to bubble up in Canada?
As marketers, we like to segment – this type of person versus that type of person. We don't think about how all those segments are influencing [each other]. You're seeing this idea of ethnic acculturation like crazy in the U.S. You could say, "I want to market to Hispanics." But actually thinking about how that culture is influencing the broader culture, especially in food, is a different way of thinking than strict segmentation.

What does that all mean for Kraft Canada?

We're going to try and shake up the industry. If we're not shaking up the industry and showing some leadership, then we're probably not doing our jobs.

The organization of Kraft Canada needs to become what it once was, which was a marketing academy. We should be generating thinking that's transforming the way other companies are learning.

What changed at Kraft to take you away from "what you once were?"

You get bigger and more pieces are bolted on, which is kind of what old Kraft was. It's very difficult to know who you are because you're doing so much. You're trying to fuel growth and keep up with all the different pieces. Now we've shed that away [with the split into a slower-paced grocery division, Kraft, and a quicker-paced confectionary and snacks company, Mondelez], we're very clear on who we are, and that allows you to retrench and refocus on what great marketing looks like.

If you give someone a sandbox to play in, they'll go to the edges of the box. If you give them a beachfront, you can get a completely different answer.