DAOY Silver/AOY Bronze: BBDO's internal community push
The shop takes honours in AOY and Digital AOY for work for FedEX, Skittles, Mountain Dew, Doritos and the Ministry of Health and Long-term Care.
What does a camera that can track motion have to do with advertising?
Well, not much, yet. But at BBDO, this year's Silver DAOY and Bronze AOY, agency folks from all backgrounds – be it creative, tech, account or even HR – are invited to come discuss the wild, wacky world of the web at its monthly "WTF sessions."
Though communal scouring and discussion of the web isn't a new activity in the agency world, it's new to BBDO. Introduced by senior AD Derek Blais, the eight-month-old sessions are designed to get people talking about anything and everything.
They're roughly split into 30 minutes of checking out cool links on the internet (which people send Blais throughout the month) and 30 minutes of discussion, which can be anything from how the tech was used to why something looks cool, and, of course, how it might be applied to upcoming creative.
For example, the aforementioned camera is a prototype technology that uses mirrors to follow the path of moving objects (such as a ping-pong ball), keeping it in focus and in the centre of a frame. Despite the video being in Japanese without subtitles and the technology still in research and development phase, people got excited.
"Someone who was working with a client said, 'Oh, my God. I was trying to get this shot [in an upcoming commercial],'" recounts Blais. "[He said,] 'I wish I had this camera. Can we reach out to the Japanese research team? Maybe we can get this camera and make the first-ever commercial using this crazy new angle.'"
It's all part of the agency's network-wide mandate to share and talk about innovation, and it's helping it delve ever-deeper into the digital space, says Tim Welsh, SVP creative operations and new business. It reflects demands from clients that all campaigns must have a digital component – something that isn't even called out in briefs anymore – it's just expected.
Brands also don't like having to go to multiple agencies for creative needs, he says, so if BBDO can help cut out a step by bringing the expertise in house, all the better. (Though Welsh says the agency has no plans to get into some marcom fields, such as promo or PR, preferring to leave that to its now-expanded network partners such as GMR or FleishmanHillard.)
About seven years ago, the agency began actively pursuing a deeper understanding of the digital space, bringing in people like Blais (who came up with the Doritos Inferno campaign for Lay's and who also worked on the Cannes Lion-winning McDonald's "Our Food. Your Questions" campaign while at Tribal DDB) and creative duo JP Gravina and Simon Craig (the pair behind the multi-Lions winning social campaign "Apology" for Johnson & Johnson's O.B.) just this past year.
Though being digitally savvy is an important part of the agency's hiring criteria, Welsh says they do work to avoid falling into the pit of "jack of all trades; Master of none."
As such, 2.5% of the company's annual revenue is invested into training, with programs like the Digital Lab global initiative (which brings people from the tech industry to speak to creatives) providing the epicentre of digital at the company. The agency has since brought in experts from Facebook, Google and Twitter to speak to employees. It seems to have paid off: it's been a busy year at the agency, which picked up a Bronze Integrated Lion in Cannes, not to mentions wins at the Epica Awards, the CASSIES and CMAs for campaigns for Wrigley, Frito Lay and more.
Of course, it's meant structurally changing up some of its staffing needs, Welsh says. While brands are getting better at navigating their social feeds (with less focus on contests to boost followers and more focus on engagement), more companies are entrusting their agency partners to manage the feeds themselves.
It was a learning curve, of course. When BBDO did its first-ever Doritos contest, it didn't have a moderator, figuring it would be split amongst the account group.
"It was terrible," Welsh says with a laugh. Since then, it has staffed up and now has a handful of moderators dedicated to the social needs of their clients.
"Clients have 24 other things to worry about, from packaging to shipments to sales, so they can't always think about communications. If we're supposed to be the brand stewards, then it's great if the moderator can reside within the agency because we spend a lot of time working within the brand from a communication standpoint."
*****
Staff: 300+
Offices: Toronto, Montreal, Calgary
Diverse Skills: Everyone the agency hires has experience in digital, says Tim Welsh, SVP creative operations and new business. But the agency does have a number of folks from backgrounds the furthest possible from advertising, including chemical engineering (SVP/ECD Peter Ignazi), baking, social work, teaching, psychology and, of all things, grave digging.
*****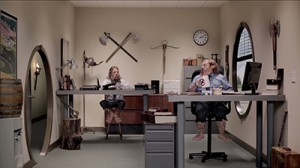 AOY
FedEx enlists colourful characters
To demonstrate FedEx Canada's expertise in international and domestic shipping, BBDO created a TV campaign that maintained the brand's witty and confident personality with a mix of fun characters.
In the spot, FedEx's services were portrayed by different characters, each strategically chosen based on its characteristics that relate to the service. For example, a turtle was used for non-urgent, ants were for freight, dwarves for small business, and humans (one of whom was actually an alien) were shown surprised at all the services FedEx provides.
The band of characters was also taken online with Facebook executions and pre-roll ads where the ant and turtle were used to further communicate that FedEx is an expert for all shipping needs. The TV spot helped FedEx reach its highest unprompted advertising awareness rate of 23% to date, with the online spots overachieving against all campaign objectives and making it the brand's most successful digital campaign.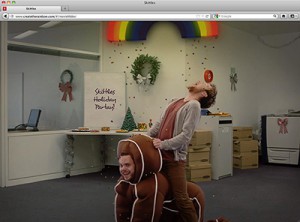 AOY/DAOY
Skittles fans create (holiday) rainbows
Skittles' YouTube videos continue to rake in thousands of views, with fans passionate about its quirky characters. So for the holidays, the Wrigley-owned brand decided to gift them with a tool that allowed them to create their own Skittles-style videos.
To go beyond simply inviting fans to create and post their own Skittles spots, BBDO helped turn the user-generated campaign into a game.
"Create the Rainbow" was a video-based toolkit (housed on a microsite) that invited fans to choose one of five characters, three settings, three music tracks and 35 different chunks of dialogue to use in their own storyline. The tool was the first of its kind, allowing people to build their own commercials with professionally shot footage.
Users could make as many videos as they wanted and share their creations with friends via social media. More than 42,000 videos were created and 5,700 videos were shared on social media.
AOY
Canadians elect a new Mountain Dew flavour
Instead of rolling out a new Mountain Dew flavour every summer, PepsiCo Canada and BBDO decided to launch four of the top U.S. flavours in Canada simultaneously. Canucks were asked to try each flavour and given a limited time to vote for the one they wanted to see stay on shelves.
"DEWmocracy" launched with an adrenaline-pumping spot, with each flavour packed in crates at a secret base in the U.S. desert and loaded onto a cargo plane. Once over Canada, the crates were pushed out and shown falling to the ground. The spot ended with a cliffhanger (not showing which crate made it out alive) and asked fans to vote to save their favourite flavour. There were 1.7 million votes in total.
The brand invited its male target of 16- to 24-year-olds to vote via Facebook or text. Voting gave them the chance to win $50,000 and they could increase their chances by going online and entering pins found on the product. More than 136,000 pins were redeemed and at the close of voting, the brand had achieved 110% of its full-year volume goal in six months.
Dew also reached out to its core group of fanatics with a secondary contest, inviting them to create a video for their favourite flavour for the chance to win 1% of the net sales for two years.
AOY/DAOY
Doritos ignites a social inferno
The new Doritos Inferno chips were set to arrive in Canada and the brand wanted to show its target of 16- to 24-year-old guys that the new flavour is one of the spiciest ever.
For this target, flames make everything awesome, and by giving them the ability to light their Facebook status on fire, Doritos and BBDO helped ignite a social conversation around the new flavour. Fans were invited to visit the Doritos Inferno microsite to set fire to their Facebook statuses (using real footage of flames) and then share it with friends.
People were driven to the site via promoted tweets, as well as rich banner ads, where they could directly type their fiery status. Radio and TV ads helped support the launch, with the brand targeting "hot" TV shows and replacing the "viewer discretion is advised" message with a warning to viewers that the content they were viewing was "wicked awesome hot" – similar to the new Doritos Inferno.
Inferno surpassed its sales target by 44% and the brand saw its market share grow by 2.1%. The campaign saw more than 50,000 statuses get torched and users spent an average of five minutes playing with the fire tool.

AOY/DAOY

CAMPAIGN OF THE YEAR

Ministry of Health takes on social smoking

How do you stop young, occasional smokers from forming a habit that would become increasingly difficult to break when they are in denial of the habit altogether? Traditional scare tactics showing blackened lungs and tracheotomy tubes don't really work because they don't see themselves as smokers and reject these consequences.

The Ministry of Health and Long-term Care enlisted BBDO to help develop a campaign that would show "social smokers" and peers just how ridiculous the act is. The agency created a predominantly digital campaign, which included humourous online videos that compare social smoking to other undesirable behaviours like "social farting," "social earwax picking" and "social nibbling."

The ads were seeded though pre-roll, bloggers, cinema, video sites and online display ads. The campaign also confronted social smokers in the act with posters, coasters and mirror clings in bars and restaurants.

The videos went viral and generated more than two million views on YouTube in the first week. The campaign garnered more than 90 million impressions, reaching four in 10 Ontarians, and it picked up a Bronze Integrated Titanium Lion at the 2013 Cannes International Festival of Creativity.