MAOY Bronze: Media Experts' holistic approach
The media shop gets Bronze honours for work for BMW, Bell Canada and Workopolis.
Mark Sherman, founder, owner and executive chairman of Media Experts, says in the future it won't be big companies swallowing up smaller ones, but the fast eating up the slow, something that gives his shop an edge in the marketplace. The agency is back taking Bronze for a second year in a row after winning a Silver in 2011.
Sherman says the agency's size allows it to change direction quickly, adapt to changes in market conditions, learn new technologies and stay on top of ever-evolving consumer behaviours.
Currently driving change is its "Imagine 2015″ project, an initiative launched in 2011 as a call to reinvent the agency. Focusing on each stage of the consumer's journey along the path to purchase, the project saw the agency taking a more holistic approach to online and offline media, bringing both "inline."
The focus on making the agency more efficient is integrated into every piece of its culture on a daily basis, he says. This includes things like how groups are formed, trials are initiated and ideas are shared.
The ongoing change initiative has continued to "bear fruit" for the agency, Sherman says, adding that during the pitch process for its recently won account for TD Bank's insurance, credit card, wealth management and banking services, the agency went up against specialty search firms and came out on top because of its approach to search.
"We didn't put search in a silo and we understood the intersection between search and other media," he says.
The program helped spawn the agency's programmatic trading practice and its trading desk Xpeto, which this year launched a Canadian-specific RTB report using data from the division.
At the time, Scott Atkinson, former managing director, digital solutions, Media Experts (now VP digital at Starcom MediaVest Group), said that the agency started the report after nearly three years of being in the RTB space because the team was tired of a lack of a good Canadian perspective on programmatic buying north of the border.
Sherman says the agency is constantly searching to add to its roster of offerings, such as Xpeto, pieces he says the smaller shop can put in place faster than larger ones.
"Our independence also ensures that we maintain our entrepreneurial culture," he says. "It is precisely because of our focus on our customers, and their specific business outcomes, that we have organized around the principle of speed."
*****
New business: Horizons Exchange Traded Funds, Couche-Tard, Michael Hill Jewellers, Interac, the SEM mandate for TD Bank's insurance, credit card, wealth management and banking services.
Staff: 130
Offices: Toronto, Montreal and Vancouver
*****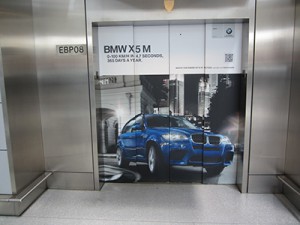 BMW takes the Bullet offline
Media Experts decided to ignite interest for BMW's new "Bullet" video, featuring the M5, by dominating offline media environments with ads that drove pedestrians to the brand's YouTube page.
In Vancouver and Toronto, the agency planned dominations within airports, transit shelters and areas with digital signage. The ads featured images of the video content, which showed slow-motion scenes of the vehicle driving through glass and walls, and included a QR code throw to the video.
The agency also executed the first-ever competitive domination across the Google Display Network and multiple ad exchanges. Any content related to BMW's competitor vehicles was targeted for a 48-hour period, making the M5 video unavoidable among potential and present owners of competitor cars.
The brand generated over two million views of the "Bullet" video in the first week. Compared to the 2011 1M launch, which took 12 months for the "Walls" campaign video to reach four million views, the BMW M5 offline domination served as an online accelerator, achieving four million views in just one month.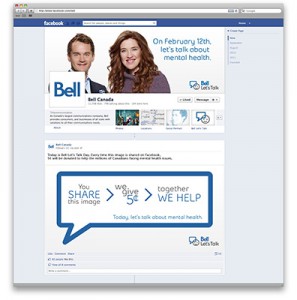 Bell Canada continues the conversation
Since 2010, Bell Canada has rallied Canadians to participate in its "Let's Talk Day" campaign to erase the stigma attached to mental health. For every text and long-distance call made by Canadians, as well as for every image shared on Facebook and tweet with the hashtag #BellLetsTalk, Bell donates five cents toward mental health-related initiatives.
For 2013, Media Experts planned and executed a month-long national media campaign, which launched with a wave of ads portraying stark examples of mental illness and establishing the program's identity.
The second set of ads launched a week later, clearly identifying Bell's role in the program and introducing the "Let's Talk Day" spokespeople, such as Olympic champion Clara Hughes and comedian Michel Mpambara, who encouraged people to "join the conversation" by sharing a personal story of their own struggle with mental health.
The campaign also included promoted tweets, promoted stories on Facebook and YouTube masthead takeover on the actual "Let's Talk day," driving almost 500,000 Canadians to post more than 1.5 million tweets about mental health.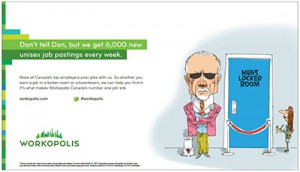 Workopolis jumps on current affairs

On Sept. 4 last year, the Parti Québécois won the Quebec provincial election and former premier Jean Charest resigned as party leader.

Two days later, the news made the front page of La Presse, along with a gatefold wrap with a message from Workopolis to "open the door." The following page revealed that the party leader had resigned, with the article accompanied by an adjacent ad that read "Workopolis opens the door to a better future."

Readers shared the ad placement on their social networks and inspired Media Experts to take advantage of more topical and news-worthy pop culture events that resonate with local Canadians.

Witty editorial-style cartoon ads that addressed a current topic – such as the election of Pope Francis or the trade of Calgary's Jarome Iginla – and highlighted benefits of using Workopolis.com were placed in newspapers in key markets.

In the first month, unique visitors to the site increased 5% nationally, 6% in Quebec, 10% in the Prairies and 26% in B.C. People talking about the brand on Facebook increased by 671% and engagement on its social media page generated 6,136 job searches on Workopolis.com.