New partnership brings Wi-Fi to TTC stations
Performance Content, Starcom MediaVest Group and AOL Canada have launched an ad-supported network called TConnect, which is bringing Wi-Fi to stations with launch sponsor Mondelez Canada.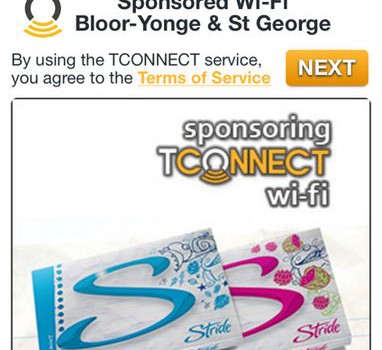 Toronto's St. George and Yonge-Bloor TTC subway stations started receiving Wi-Fi underground yesterday thanks to an ad-supported partnership between data-driven media innovations firm Performance Content, Starcom MediaVest Group and AOL Canada called TConnect.

The partnership launches with tech support from wireless communications company BAI Canada and an ad sponsorship from Starcom MediaVest Group client Mondelez Canada, which will have ads present on the launch page of the Wi-Fi network, alongside timely and consistently updated content from AOL Canada's news and opinion site, Huffington Post Canada.

"For content creators and marketers, we think this is a unique opportunity to create an excellent mobile experience," says Deborah Hall, co-founder and CEO of Performance Content. "The background from a technology experience is this is really a one-of-a-kind environment, where there are very few like it in the world that have a mix of content and sponsorships that they can offer to consumers."

Kristi Karens, director of media and consumer engagement, Mondelez Canada says the brand's involvement with the project sprung from it being part of Starcom MediaVest Group's Liquid Thread content division and wanting to be involved with new opportunities as they launch.

"We will be using the platform to test and learn about different kinds of sponsorships for the consumer," she says. "It is incredibly important to us as marketers that our consumers receive relevant messages that are linked to relevant content.

"Knowing that mobile is essentially an extension of your hand and people want access to content on the subway, this is a perfect opportunity for us as a marketer to be able to partner and provide services to them."

Hall says that TConnect will be rolling into other stations within the TTC in the new year.