Koodo's El Tabador to get sitcom treatment
The animated pitchman is part of a proposed half-hour family sitcom, pursuing his celebrity lifestyle in a mansion with an entourage.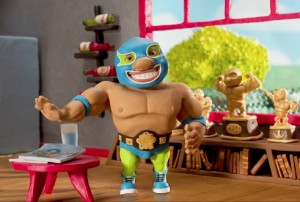 For the past four years, the animated icon El Tabador has starred in Koodo mobile phone advertising campaigns.
Now former World Wrestling Entertainment Canada topper Carl Demarco has inked a deal with Telus to exploit the Koodo pitchman in other media as part of a global rights deal.
Development work has begun on a half-hour primetime family TV sitcom that, like the ads, will place a CGI-animated El Tabador in live action scenes.
Demarco's production shingle, Camillion Corp., will start shopping the animated Mexican wrestler as a possible sitcom star at Kidscreen Summit.
The project, now in development, would see the Koodo pitchman pursue his celebrity lifestyle by living in a mansion with an offbeat entourage, and dealing with guest stars from Hollywood and TV wrestling.
"El Tabador's character is a natural not only for a TV sitcom, but also for any digital platform," said Demarco in a statement on Tuesday.
Camillion Corp. is currently searching for a series showrunner, and an animation studio to complete the work for a sitcom.
"This is an excellent opportunity for Koodo to break the traditional barriers of marketing, sponsorship and advertising," added Kevin Banderk, Chief Koodo Officer, in his own statement.
From Playback Daily