Canadians are impatient, but seek serenity: trend
Exclusive to strategydaily, JWT breaks down its famed global trend report for Canadians with new research and local examples.
At the end of each year JWT takes on a global initiative, tracking upcoming trends likely to influence consumers' lives in the coming months. This year, JWT Canada conducted its own  survey to localize the global trends. In this five-part series, exclusive to strategy, the JWT Canada Front Row Insights Team Victoria Radziunas, Chantaie Allick and Melanie Reiffenstein break down the 2014 trend report with new Canadian data and examples. 
The Age of Impatience
We carry communication with us and are accessible at all times, with smartphones answering to our beck and call whenever we desire. But this constant presence can be a worry for consumers. JWT Canada's Trends Study revealed that some users believe that the increase of technology has made it harder to think for ourselves, rendering people unable to do simple things like spell or read maps.
This age of impatience means we want things now and we want to do little work for them, and Canadian brands are catching on. ShopWise, a Canadian app by Yellow Pages, lets users find shops based on what's nearby, even alerting them to deals and coupons at the store.
According to a ComScore study, e-commerce spending in Canada was up 10% between 2011 and 2012. But more importantly, consumers want the convenience of online shopping with immediate delivery so Canada Post is piloting its Delivered Tonight service (with partners, including Indigo, Walmart and Best Buy), offering both convenience and speed.
But brands need to determine their customers' impatient needs and act on them before someone else does. For example, the RocketMan app helps geo-locate Toronto's TTC buses, streetcars and subways to determine when it will arrive at your nearby stop. No more shivering in a bus shelter.
But it wasn't the TTC that saw a need for this technology and acted on it. Instead, more and more grassroots solutions are making headway where brands should be. Businesses need to get their finger on the pulse of what their customers want sooner.
When consumers want something, they want it now.  Brands can recognize that a culture of instantaneousness feeding impulsiveness equals a quicker conversion, and the time to act is now.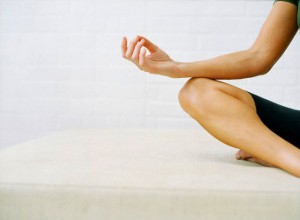 Mindful Living

Mindful Living may seem counter-intuitive when placed alongside JWT's Age of Impatience trend, but while Canadians can be impatient, the idea of living more mindfully is something that is certainly coveted in our country. In fact, according to JWT Canada's 2014 Trends Study, conducted using Sonar surveying 500 Canadian adults aged 18+, between Jan. 8 and 10, 2014, one out of every five Canadians wishes they could tune out distractions around them and 64% of us agree we'd like to spend more time focusing on the here and now rather than the past or future.

Canadians are lousy multitaskers – only 9% admit to doing it well. Admitting you need a break is one thing but there are technologies out there that make it their business to help you unwind.

For example, the Transcend app by the Canadian startup Personal Neuro helps measure how well you meditate by reading brain waves to gauge your success and even recommend new techniques if it feels you're not achieving full meditative potential. However, for some, picking up a tech device when they're trying to live mindfully isn't their cup of tea. To truly step out of the digital age and into a mindful Zen there are retreats like B.C.'s Echo Valley Ranch. It has no Wi-Fi or cell reception and guest activities are primarily outdoors against the backdrop of stunning scenery. And this space is booming.

Giving consumers a more mindful, calming experience should be a key focus for businesses in 2014 and beyond. Starting with their own employees isn't a bad idea, which is what Shell Canada  had in mind with its meditation room. Turning to consumers, Air Canada's new Dreamliner 787, is chalk full of little things designed to help create a mindful experience, including ambient lighting, which adjusts gradually throughout the flight allowing for a more peaceful and less disruptive travel experience.