All hail the coveted 18-to-34 male demographic
Is catering to men online outdated thinking? Digital content platforms are branching out, bringing advertisers with them.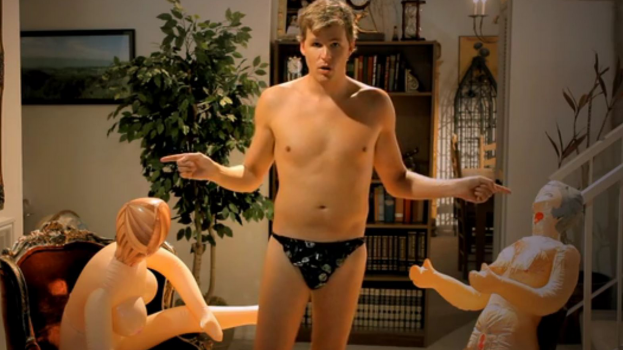 It's not like the creative mind trust of Funny or Die goes down a list, making sure to check off the box that says "hot women"  - but if one turns up in an idea at a pitch meeting, they're not stupid enough to turn her away. After all, they are making edgy, often raunchy comedy videos for the internet.

"We're definitely cognizant of the world we're living in," says Funny or Die president of production Mike Farah. "It doesn't take a rocket scientist to figure out that attractive women are popular online."

That's because, as shown in this 2003 comScore report, the internet has long been thought of as a place where young males congregate in large numbers, in all their horny, aggressive, scatologically-minded glory, which is why online marketers are forever talking about "the coveted 18 to 34 male demographic."

"[The young male demo] was sort of the early digital audience, and now it's just grown exponentially as time's gone on," says Believe Entertainment Group partner Danny Fishman, whose company produces such online originals as The LeBrons, Money Where Your Mouth Is with Jay Mohr, and TBE with Jennifer Lopez. "It's also obviously hugely important from a brand [partnership or ad sales] standpoint, because it's always historically been a high-spend category [because they have] disposable income and not nearly as many fixed expenses as older demographics. So, because males 18 to 34 as well as 34 to 44, and even teens, are such a big target for so many brands, it's one of the primary core targets that we look at when we're developing programming."

But focusing on that testosterone-rich niche to the exclusion of all others can be dangerous. A case in point: Machinima, which likes to boast that it's the number one global video entertainment network for young males, with 321 million-plus YouTube subscribers and more than 48 billion views. Yesterday, after months scrambling to secure additional financing, the gaming-centric multi-channel network laid off 42 workers. The company could rebound like Michael Douglas and Catherine Zeta-Jones' marriage, but this news doesn't bode well for the company's health and, arguably, the idea that the 18 to 34 male demographic is something to be pursued with single-minded focus.

In a June 2012 address at Australia's "Big Ideas" conference, Intel's director of interaction and experience research Genevieve Bell said her findings showed that women in Western countries use the internet 17% more every month than their male counterparts.

Given these findings, it's not surprising to see online video brands branching out.

The core of Electus Digital's business is built around the 15-year-old comedy portal College Humor and other online properties that skew towards males 18 to 34, such as Dorkly and Watchloud, but it has also added the YouTube channel NuevOn, targeting the female Hispanics in the U.S., and shows like Yahoo's Reluctantly Healthy with Judy Greer, which caters to the general young adult female demo.

"We're honing in on good stories and monetizing them, whether it's through licensing, advertising or distribution, to the best of our ability," says Drew Buckley, founding partner and COO, Electus. For instance, "Walgreens has been a great partner on Reluctantly Healthy. They're looking to tap into moms or, as we call them, the chief household officers that go to that store."

Farah believes that, at its best, Funny or Die attracts a broad audience, too, in much the same way as the manly-minded movies of Funny or Die founders Will Ferrell and Adam McKay (Anchorman, Talladega Nights, etc.)

"It always just comes down to what's the idea and who are the right people? to execute it," Farah says. "And then, hopefully, if it makes everyone in the room laugh, it's going to make a lot of people online and beyond laugh."

Farah points to their recent spoof of the award-winning lesbian film Blue is the Warmest Color as a good example.

"We called it Vagina is the Warmest Place, and I thought that was a really smart take on having some attractive girls do something that is funny and smart and makes fun of the marketing and the mystique of that French film," Farah says. "A video like that would appeal to young guys, but it's not something that's trying to pander towards them."

Image screengrab from "How to Give a Girl a Lap Dance" episode of Funny or Die's Mr. Boston's Symposium.