WWF reflects in the dark
The NGO's celeb-backed Earth Hour campaign rolls out on TV, radio and online.
The WWF and John St. are spurring conversation around climate change in the lead up to Earth Hour on March 29.
For the yearly event, the NGO and agency have launched a "Moment of Darkness" campaign featuring celebrities such as William Shatner, Jason Priestley, Canadian astronaut Roberta Bondar and Our Lady Peace lead vocalist Raine Maida (pictured) sharing what they will think about during Earth Hour.
The clips are housed on Momentofdarkness.ca, where people participating in Earth Hour can also record or upload videos sharing what they will be thinking about. They can also share a poster with friends and followers via Facebook, Twitter, Google+ or Pinterest. There will also be TV and radio spots echoing the Earth Hour message.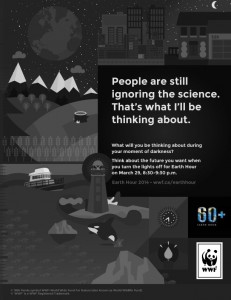 "This year we thought it made sense to use the hour to reflect on what is happening with climate change. The gesture of turning off the lights will hopefully be even more of a symbol, a call to action," John St. partner and ECD Stephen Jurisic said in a statement.

Earth Hour takes place on March 29 between 8:30 to 9:30 p.m.