Inspiration
There are several steps to overcoming drug addiction, and finding a job is one. However, recovering addicts often come up against an obstacle at job interviews: the negative perception some employers have of former drug users.
So based on the idea that a well-tailored suit can help its wearer make a good impression, Valin Confection, a Quebec City-based manufacturer of bespoke men's clothing, decided to roll up its sleeves and help others gain social acceptance.
Strategy
Valin had a limited budget and faced competition not only from other bespoke stores, but also from department stores offering ready-to-wear suits. It decided to create a low-cost campaign to help promote its planned expansion and services in Quebec, while also helping Portage, an organization that assists drug users in overcoming their addiction.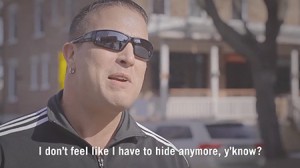 Execution
Valin produced smart tailored suits for former addicts to wear on job interviews. Each participant, young and old, received a new custom-made suit to help dispel prejudice from potential employers and regain their self-confidence.
For the project, dubbed "Fits the Misfits," agency Lg2 created a web video that followed the former addicts for nearly a year, from therapy to job interviews to employment. The Valin Confection website, as well as indoor advertising and newspaper creative, further supported the project and video that launched in November 2013.
Results
"Fits the Misfits" grabbed the attention of media in Quebec and people shared the video on social media. With an investment of only $3,000, Valin generated more than $1 million worth of impressions. But, most importantly, each of the former addicts who received a custom-made suit for their interview remains employed and drug-free to this day.
Judges' comments
"[This is] a highly innovative program for a new company to showcase their brand. Loved the grassroots and personal side to a campaign that will hopefully encourage the consumer to follow in future years." – Tim Faveri, Tim Hortons
"In [a single] marketing execution, Valin has not only been able to make a large impact on a growing problem in Quebec City, [it has] also reinforced the effect a well-tailored suit can have on a man's confidence. For a very modest investment, Valin was able to generate a strong return in media impressions, but more importantly, impact the lives of the participants." – Kate Robb, Koodo