Taking a stand against child slavery
The new campaign from KBS+ wants you to take action, pitting happy childhood moments against scary worldwide truths.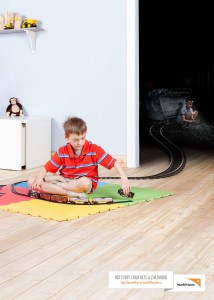 A new campaign from World Vision, KBS+ and Real Interactive is calling on people to take a stand against child slavery.

As part of its overarching "No Child for Sale" initiative, the latest slate of creative goes beyond raising awareness, which was the goal of last year's campaign, and drives people to Nochildforsale.ca to sign a petition lobbying the government to support the eradication of child slavery. Targeting women aged 25 to 54, the new campaign comprises TV, print, digital and social.

While research from last year's campaign results indicated people have an understanding of the issue, people don't necessarily take action, says Marie Magnin, group account director, KBS+.

As such, this year's creative aims to inspire the need to do something, says Matt Hassell, CCO, Kbs+.

"This year, it's really about making it resonate in a way that makes you feel like 'Oh, there is a connection between these children and this problem, and my daily life,'" he says.

The TV spots contrast happy childhood moments, such as getting ready for bed or sharing a bar of chocolate with a pal, with horrific experiences a child slave endures. Similarly, print focuses on this juxtaposition.

"The intent was to set you up to make it look like something it's not and then pay it off with this connective tissue," says Hassell. "In the case of the print, I think the connection is the point of the ad, so that you're really seeing how these issues are directly linked to your daily life or that there is this problem sort of hiding in the background at every point."

When the agency started to work on the "No Child for Sale" campaign last year, the non-profit charity was facing brand challenges, says Magnin, explaining it is established as a conservative and religious brand.

"World Vision recognizes that the population in Canada is becoming much more secular, and that younger people donate differently than the previous generation."

This latest campaign continues to try and convey the brand in a new and interesting way, while considering the younger generation and future donors, she says, adding the branding for the "No Child for Sale" initiative is more youthful and louder than in the past.