Bullying.org launches an interactive radio spot
The new iTunes Radio ad from FCB tells conflicting stories to shed light on the unsaid things kids experience.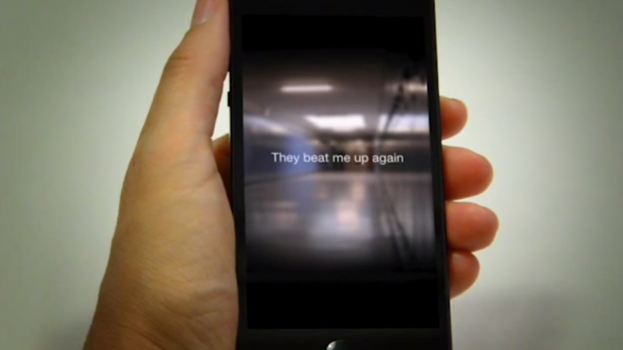 Alberta-based global site Bullying.org and Toronto's FCB are rolling out what they bill as the first interactive ad on iTunes Radio.

The ad starts with an announcement, inviting consumers to hear an ad while seeing the truth. The ad features a woman and son chatting about his day at school, while on screen the son's thoughts of what actually happen – such as "They beat me up again" – scroll through in the background.

The creative was inspired by the unsaid things children experience when bullied. It will target anyone and everyone using iTunes Radio, though the text in the copy in the ads will likely resonate most with parents, says Robin Heisey, CCO, FCB.

The campaign will run on donated media in the U.S., and once iTunes Radio launches in Canada it will run here as well. Because it's on donated media, Heisey says they aren't sure how long the campaign will run.

The pro-bono campaign started as an attempt to create an interactive ad over traditional radio stations, but the challenges were a bit too great to overcome, Heisey says.

After a conversation with Apple at Cannes last year, the agency approached the tech giant to create the ad within the radio app directly.

Though the interactivity in this ad is limited to inviting consumers to hear "what's really going on" behind the ad, Heisey says the possibility in digital radio is huge, and mobile will be a big driver of that, pointing to opportunities to tap into responsive functionality, geo-location, weather or even directionality to create customized ads on things like iTunes Radio or Google Play.