Assaulted Women's Helpline disguises aid
An OOH execution by Y&R hides help for victims in plain sight, embedding the non-profit's number in a fashion brand display.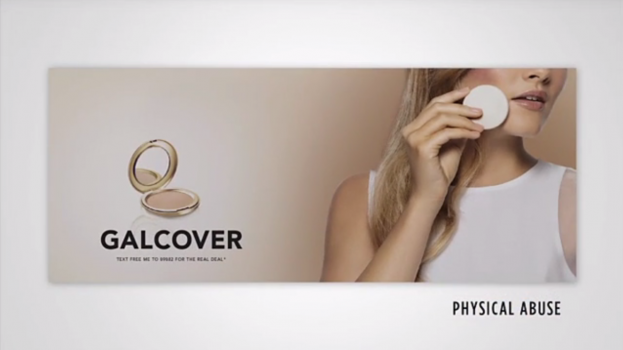 The Assaulted Women's Helpline faces an obstacle in reaching the women who need its services: research shows that should a woman's abuser discover her seeking help, the abuse intensifies.

It's a challenge the Toronto-based non-profit and agency Y&R Toronto are trying to overcome by hiding a message in an unexpected medium – billboards.

The "Help in Disguise" campaign was launched last month with donated static and digital OOH from Pattison Onestop around the GTA, including TTC digital boards and one near the Holt Renfrew Centre. Targeting women – 50% of whom have experienced at least one incident of physical or sexual violence since the age of 16, according to StatsCan - the boards feature creative that appears to be for a high-end fashion brand, meaning most men would not pay much attention to them, the agency says . The creative included subtle signs of abuse in the model photos, such as a single tear behind one's sunglasses or a model lying on the ground, with a suited man's shoes and pants standing above her at the edge of the photo. That poster advertises a brand called "Kaptiv" and encourages the viewer to text FREE to a number "To walk away in style."

Women who text the number receive a message telling them the real message behind the posters and encouraging them to call the hotline's number if they or a friend are experiencing abuse. They are also instructed to save the number under a different name and to delete the text.

Other billboards placed along highways include a link to a website, ostensibly for the brand, that redirects to the hotline's site. The non-profit also used donated Google keywords to call up the ads when the brand was searched for.

Israel Diaz, EVP, CCO for Y&R Toronto, says the idea stemmed from trying to figure out how to make a billboard more interactive and give the message a chance to spread beyond the immediate OOH location.

After two weeks, visits to the site increased by 15%, the helpline says, and it expects to reach one million media impressions by the time the campaign wraps up this summer.

"What would have been a static billboard, turned into a little more of a mobile, social experiment," Diaz says.

This isn't the first time victims of abuse have been targeted with a message hidden in plain sight. Last year, Grey Group Espana created an ad for the International Day Against Child Abuse that put a helpline number on a lenticular board, so only people under a certain height (read: children 10 and under) could see a helpline number.

View Y&R's case study of the execution below.