Eone Films sends kids scavenging for ads
To promote its latest flick, the production co is encouraging children to go on an adventure with a new app from Spoke.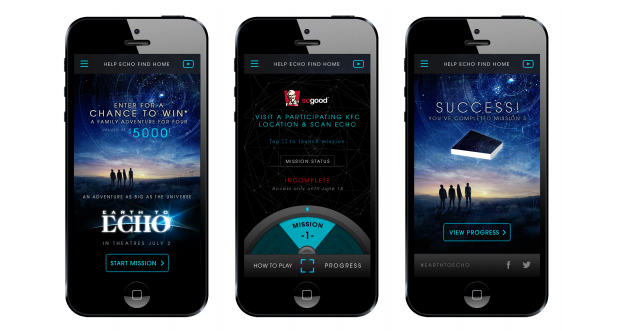 Eone Films and Toronto-based agency Spoke have launched a new augmented reality scavenger hunt to promote the production company's latest kids' flick, Earth to Echo. 


The film follows a group of youths as they try to help an alien who crash-lands on Earth.

The new app works as a scavenger hunt for kids, with the aim to engage them in other ad content, says Jeff Greenspoon, CEO, Spoke.

"Echoing the theme of the movie, we're encouraging the audience to go on an adventure of their own," he says.

It's simple – the app presents a series of 10 "missions," such as seeking out movie posters, in-store ads (at KFC, Canadian Tire and Cineplex) or TV spots, and scanning the ad with the app's augmented reality technology, filling in a puzzle piece. Those who complete the puzzle are entered to win a $5,000 vacation. Text messages will also send out tips, tricks and hints to find more clues.

"We know that kids love watching YTV, ABC Spark [and] MTV, but we wanted to give them a little bit more and encourage them to stay tuned and watch that commercial [rather than] flip the channel," he says.

The core demographic is kids aged 10 to 15, skewing towards boys, with a secondary target of fathers, he says. This is why an app made sense, as this generation is mobile-savvy.

The four-week campaign, which rolled out this past Friday, will be supported over digital and social media to encourage app downloads, with particular emphasis on Facebook, Twitter and Tumblr. The movie also has a traditional media buy, handled by Vizeum.

To tap into those really interested in the film, Spoke tracked trailer views, and re-targeted those who watched the majority of the trailer with ads prompting people to download the app, in the two weeks prior to the app launch.