The AAPQ's (sort of) free campaigns
In a bid to speak out against spec work, the Quebec organization promises to give away creative.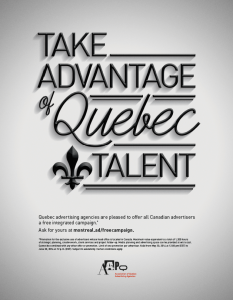 The Association of Quebec Advertising Agencies (AAPQ) wants you to take advantage of Quebec talent with the lure of a free campaign…sort of.

If you've been on strategy's website or flipped through the latest issue, you might have spotted an ad directing folks to a website to learn more about getting a free campaign. The copy states the promotion is limited to advertisers whose head office is in Canada, and the max value would be 1,200 hours of strategic planning, work and follow-up.

Once someone has visited the site and answered three quick questions, they're quickly redirected to a page explaining that, in fact, this isn't a free campaign. Instead, it's an ad speaking out against spec work and prompting folks to download the AAPQ's recently released guide to RFPs. 

Lots of advertising bodies have spoken out against spec work in recent months, says Dominique Villeneuve, general manager, AAPQ.  But the AAPQ feels so strongly about its stance on spec work, she felt it was important to advertise its position. She says it chose the July issue of strategy for its international focus headed into Cannes.

"It's an international topic – everyone is thinking about spec work, and we're just coming up with a solution," she says. "It's not always sexy to talk about this topic, so [we needed] to find a way to surprise people and let them think outside the box."

The campaign is specifically targeted at advertisers and will live primarily on print, social media and digital until the end of the month.

Only a week old and it's already seen "a number of downloads" of the guide, she says, which she takes to be a very positive sign.

The organization worked with Palm + Havas on the creative.