Casa di Mama aims to score new fans with football app
The pizza brand launched an augmented reality game and on-pack promotion, which leverages its recent CFL partnership.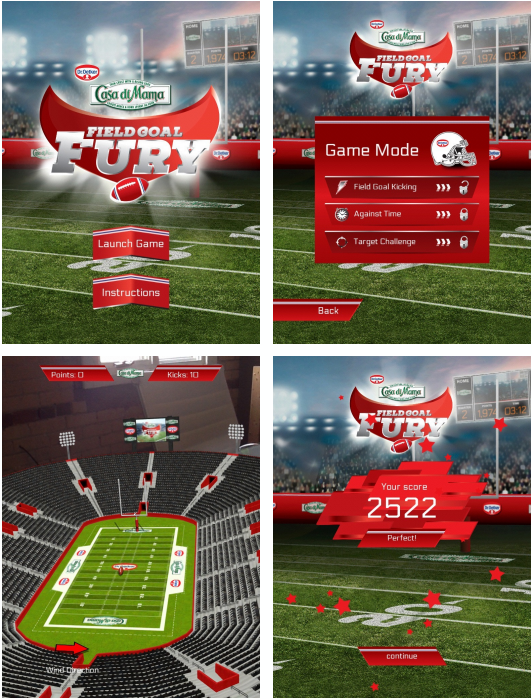 Casa di Mama is hoping to score the football crowd with a new game that brings its pizza box to life.
Tapping into its new partnership with the CFL as its official pizza, last week the Dr. Oetker brand launched its Field Goal Fury app, complete with an augmented reality component when paired with the packaging. After downloading the free app, which lets players try to kick field goals and save their scores to a national leaderboard, consumers can scan the pizza box to reveal a 3D football stadium.
The app, developed by Launch! and PixelPusher, was created to generate buzz around the brand's existing contest – a trip to the 102nd Grey Cup in B.C. –  which consumers can enter with a pin code obtained from the packaging. The game allows them to win smaller prizes such as CFL swag and pizzas.
The app is available for iOS or Android, while a 3D flash version of the game was developed for desktop, without the augmented reality component. This is parent brand Dr Oetker's first foray into mobile, which was used to help reach a new demo, says Mike Palmer, VP creative director, Launch!
Casa di Mama's target market is 25-54-year-old males, but the CFL partnership, which kicked off this year, has helped open the doors to new potential customers, with football fans as the target for this campaign.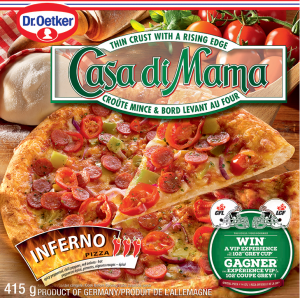 "Mobile was a great way to engage that gaming demographic," says Palmer. "CFL fans are already obviously into watching football and playing games, so it was a natural extension to combine the two into this on-pack promotion."
The new packaging, which calls out the contest on the box's front right corner and on the back, was applied to 1.5 million units, and began to rollout at major grocery retailers across Canada earlier this month.
A digital buy on CFL.com will also support the push, with two different banner ad sizes expected to generate 2.5 million impressions to drive awareness of the contest and app.
Moreover, Casa di Mama is partaking in a cross-Canada sampling tour, along with Dr. Oetker brands Ristorante and Panebello, which kicked off this past weekend at a football-themed tailgate party at the University of Regina. Brand ambassadors will travel to 24 different events, such as CFL games and family-oriented festivals, with the custom-built, mobile pizza kitchens, serving over 240,000 slices, and a four-foot replica of the Casa di Mama packaging for app demos.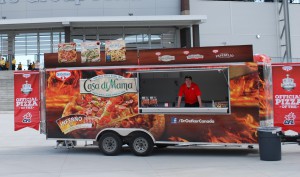 The game runs until Oct. 17, and will see two additional modes rollout – a competition against time and target challenge.

"It's a cool way to keep the game exciting and fresh over the life of the contest," says Palmer.