Smart takes the five-metre race
To sell its new electric vehicle, the car co shows off its starting power in an itty-bitty drag race.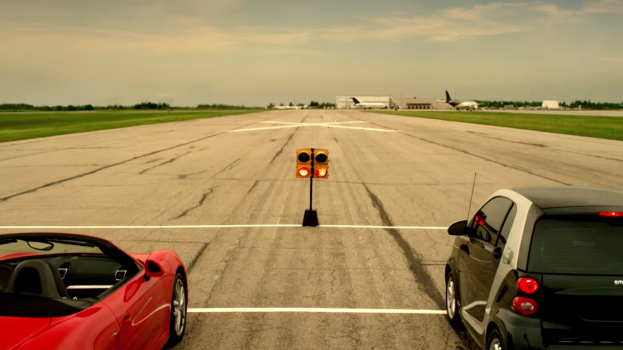 Already competing in a niche space (the sub-compact, urban-driving category), Smart Fortwo is getting even more niche with an electric vehicle and a new campaign that shows off its city-driving agility.

To demonstrate its abilities, the Mercedes-owned brand and BBDO are highlighting how the new Smart Fortwo Electric Drive can beat even high-performance vehicles in a race…assuming the race is only five-metres long.

The new spot shows the Smart car lining up at a drag race against three powerful-looking vehicles, getting outpaced by its rivals. In a close-up of the actual start/finish lines, it demonstrates that the Smart car outstrips the competition on a super short track (giving it the advantage in the city at, say, the red light) and shows off the brand's attitude, says Jay Owen, director, Smart Canada.

The new TV spots, launched on July 1, will run until mid-August, and target a state of mind, he says – namely, those who are looking to make a statement about the car they drive, a desire which spans both genders equally. Recognizing that the brand already competes in a niche category (commanding roughly 6% of Canadian market share), Owen thinks this new push will broaden appeal to those looking for an electric vehicle (but may have decided to skip the sub-compact category in their hunt).

The campaign, with creative by BBDO and media by OMD, is designed to appeal to both folks who are looking for electric cars and for city sub-compacts, he says, and will be supported by cheeky out-of-home (such as a billboard that shows the price of gas at zero for Smart electric cars), social, online and print.