Throwback Thursday: strategy in 1996
For our 25th anniversary, we're travelling through time. In '96 Lowe Roche was born and Motorola debuted wearable tech.

For 
strategy
's 25th anniversary, we're travelling back in time, flipping through the pages of old issues to highlight some big news you may have forgotten, trends you wish you'd had a crystal ball to predict and marketing issues that never seem to change. Check back next Thursday to pick up some valuable insights into Canadian marketing history. This week, we tackle 1996.
Headlines you might remember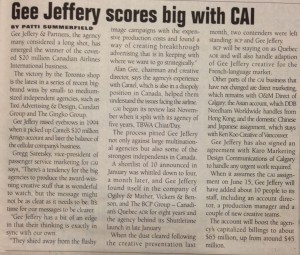 Gee Jeffrey scores big with CAI May 27, 1996
"Gee Jeffrey & Partners, the agency many considered a long shot, has emerged the winner of the coveted $20 million Canadian Airlines International business. The victory by the Toronto shop is the latest in a series of recent big-brand wins by small- to medium-sized independent agencies, such as Taxi Advertising & Design, Cundari Group and The Gingko Group."
At the time, this was a hot account and speculation of who would win it abounded. Canadian Airlines was acquired by Air Canada in 2000.
Optimedia expands, restructures June 10, 1996
"All media buying services for FCB Canada clients are being consolidated under the Optimedia banner. At the same time, the media buying firm is expanding to Vancouver and Montreal from its base in Toronto. Sunni Boot will oversee all Optimedia operations as executive director, moving up from managing director."
Roche, Lowe merge June 24, 1996
"Ad industry maverick Geoffrey Roche has netted the best of both worlds – autonomy and access to the international stage – through a merger with a new minority owner of his agency, The Lowe Group, based in London, England."
Regulators aim to protect kids from promotion of tobacco Sept. 2, 1996
"Key to the proposed new legislation in both countries (Canada and U.S.) are strong measures aimed at protecting children from being exposed to tobacco advertising and limiting access to tobacco products. Health Canada's 'Tobacco Control: A Blueprint to Protect the Health of Canadians,' released in December, states 'The government believes that a complete ban on advertising is the most effective measure to achieve its health policy objectives.'" While advertising wasn't banned completely, they were forced to print hazard warnings on cigarette packs.
Coming soon: 23 more buying choices Sept. 30, 1996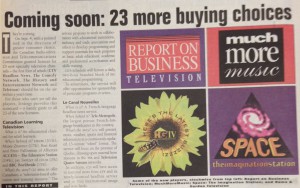 New specialty channels entered the market in 1996, including: La Canal Vie, The Comedy Network, MuchMoreMusic, Home & Garden Television Canada (HGTV), Space: The Imagination Station, Teletoon and TreehouseTV (plus a bunch of others that no longer exist).
Debuted before their time
Sega launches $500 box May 27, 1996
"Sega has launched the first of the much-anticipated '$500 boxes' that offer Internet capabilities without many of the other features of the personal computer. The Sega Saturn Net Link is a 28.8 bps modem with browser software. Sega claims the performance is comparable to PCs."
Motorola debuts "wearable" phones June 10, 1996
"You can attach it to your arm, wear it around your neck or even attach it to a cycling glove. Motorola has created a new 'wearable' category of phones with the introduction of StarTAC, the world's smallest and lightest cellular. The 3.1 oz phone is small enough to fit comfortably in a shirt pocket and comes with accessories that make it wearable."
Perhaps they had a crystal ball
PR to enter major new growth phase March 4, 1996
Richard Rotman wrote this column that said: "…public relations' strongest utility is in its new-found ability to reach individuals directly, its most unintended consequence…the Internet, on-line services and the World Wide Web have changed the profession forevermore and for the good.
"I'd even advance the idea that the creativity in public relations in the future will also be proportional to one's understanding of the cyber and digital kingdom. As hard copies of publications shrink and the world of broadcast journalism migrates to greater specialization and more presence on the Web, ideas for communicating will of necessity be digitally based."
This piece also looked at various non-internet developments that will change the future:
PDAs – they'll have email and online access, and will be the future's key crisis communications tool
PCSs (a.k.a. portable telephones)
Apple's woes – the recent licensing of the Mac Operating System to Motorola; greater availability means lower price and less impetus to give in to Windows
Quick Time – allows for visual storytelling
Online shopping is hot! Or maybe not…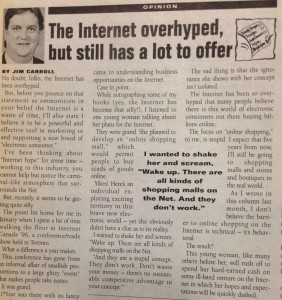 The Internet overhyped but still has a lot to offer Feb. 19, 1996
Author Jim Carroll overheard a woman talking about creating an online shopping mall: "I wanted to shake her and scream. 'Wake up. There are all kinds of shopping malls on the Net. And they are a stupid concept. They don't work. Don't waste your money – there's no sustainable advantage in your concept…You can't afford to get caught up in the hype and silliness that surrounds the concept of 'online shopping.' You need to have your head screwed on right."
Why haven't people rushed to shop on the Internet? Apr. 1, 1996
At the time, only 7.5% of Canadians were thought to use the Internet when they shopped. (In 2012, 56% of Canadians purchased products or services online, according to Statscan). The big issue was privacy and trust – putting credit card info out into cyberspace. Also, not trying things on and preferring the physical act of shopping. Funnily, this is still a big barrier for many.
Planet offers on-line "shopping mall" Aug. 19, 1996
"Planet Shopping Network, an Internet retail shopping mall network, officially launched its site earlier this month. Three hundred stores from Canada, the United States and the UK have pages that list products, prices and shipping costs…The service provides a link to and from the retailers' individual Web sites. Retailers pay a monthly $99 fee to remain part of the network."
It was the first "mall" to secure real-time credit card processing over the internet.
 The more things change…
There's some ridiculous stuff happening on the Internet Jan. 22, 1996
"Last year was the year many businesses rushed to establish home pages on the Web. Yet, I think many did it as part of a 'me-too' mentality – 'I was talking with someone in executive class,' says the boss, 'and I'm convinced we need a home page.' Yet, looking around the Web, it's obvious organizations are not really thinking strategically as to what they really should be doing with the Internet."
Sound familiar? Like when brands first wanted to "get on Facebook"?
AAABC calls for no more spec pitches Apr. 15, 1996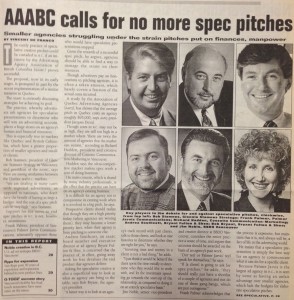 "The costly practice of speculative creative pitches could be curtailed in B.C. if an initiative by the Advertising Agency Association of British Columbia proves successful. The proposal, now in its early stages, is prompted in part by the recent implementation of a similar initiative in Quebec…Support for the move to end spec pitches in BC is not, however, unanimous. Frank Palmer, president of Vancouver's Palmer Jarvis Communications, adamantly opposes those who would have speculative presentations stopped. Given the rewards of a successful spec pitch, he argues, agencies should be able to find a way to manage the strain of their resources." Sound familiar?

Finally, because everyone loves lists, take a gander at the top creative agencies, brands and creatives who graced strategy's annual Creative Report Card. See if you can spot any names still playing big today. (We spy Chris Staples, Duncan Bruce, Janet Kestin, Nancy Vonk, Israel Diaz, Glen Hunt and more.)


Want more strategy Throwback? Catch up on the headlines from 1989, 1990, 1991, 1992, 1993, 1994 and 1995.