Want a good movie review? Dish out the popcorn
Orville Redenbacher tries its hand at mood manipulation (but in a rewarding way) for its latest campaign.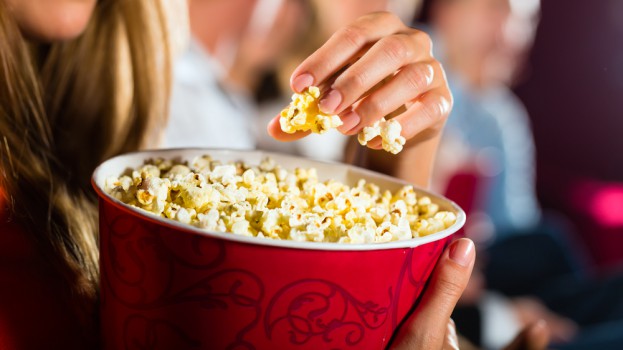 Movies are better with popcorn. This is a fact. At least this is a fact according to Orville Redenbacher's latest campaign, bowing Monday.
The ConAgra brand recently conducted a social experiment (much tamer than the Facebook one, which placed negative ads in front of people to test their moods). In Orville's study, they split a theatre in half, dishing out popcorn to one side, and water to the other. At the end of the flick (The Grand Budapest Hotel), audience members were asked to rate the movie. Those with popcorn rated the film much higher, says Michael Murray, CCO at Blammo, the agency behind the campaign. In fact, 97.1% of people who had popcorn enjoyed the Wes Anderson movie, versus only 77% who didn't get a bowl.
The entire thing was filmed and will be turned into a TV spot, which will run for the next four to six weeks. They will also promote the stunt heavily with PR, and Murray's hope is to get at least some of the conversation moving into the movie review space (perhaps a movie will get better reviews if the reviewer is plied with popcorn beforehand? Just a thought for those production companies out there).
The entire campaign was a bit of a risk, Murray says. There was no factual basis to suggest those with popcorn would score the movie higher than those without (and what a dull commercial that would have been).
"We all know movies trigger thinking about popcorn. But is there any real reason for it?" he asks when discussing the inspiration for the creative. "Does it enhance the experience itself?"
Orville is a category leader and has been doing very well in recent months, but the category overall suffers and has seen a decline in sales as a result of tougher competition in the chip space. So the brand undertook an overarching strategy to reaffirm popcorn's connection with entertainment. It kicked off this campaign with last year's "The World's Most Entertaining Coupon." It's since rolled out an OOH campaign featuring hangman-style movie titles with letters missing. A few days later, the answer is revealed.
The latest push is just the start of a bigger launch. Though Murray remained mum on the details, he says a big focus will be on experiential.
Image via Shutterstock.