Bosch shows some swagger
With its "Nothing... like a Bosch" tagline, the brand heats up the home appliances category.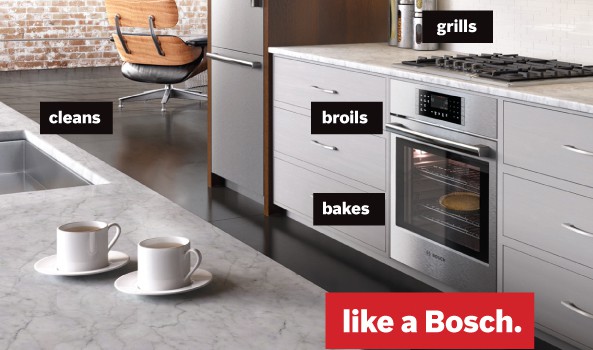 Bosch has long been known in Canada for its premium dishwashers but now its got its eye on owning the entire kitchen.

The company has launched a new line of appliances with a European design aesthetic, including ovens and fridges, that make technology previously limited to the luxury segment of kitchen appliances, such as high-speed ovens, available to more people.

The mass-premium brand's new line is targeted at boomers and younger consumers who are looking to build a more upscale kitchen, either to have the kitchen of their dreams or with a view to increasing the resale value of their house.

"Particularly with this new line we are going to start to attract consumers that are more likely doing a full kitchen reno and not just replacing one or two pieces," says Steve Preiner, director of marketing for BSH Canada, which markets Bosch, along with higher-end lines Thermador and Gaggenau. "There are a lot of people finally doing the dream kitchen they always wanted and not restricting themselves by budget as much."

The brand and agency launched a campaign this summer that includes print, digital, radio and social elements, that leverages the brand's position as market leader in dishwashers.

Robert Froese, CEO of Bosch's AOR, Bob's Your Uncle, adds that the campaign is intended to bring Bosch into the kitchen renovation category, changing consumer thinking from "I want to upgrade my dishwasher to a Bosch" to "I want to upgrade my kitchen to Bosch."

"Nothing like a Bosch" states that no other product, whether oven, fridge or sink, can do it like Bosch can. For instance, the print work supers the word "Nothing" above the picture of a kitchen, with words like broils, cleans, grills and bakes placed next to appliances and the words "like a Bosch" placed at the bottom.

"We really felt the concept [Bob's Your Uncle] came up with had such great extension in all media," Preiner says. "It expresses the breadth of the line in one piece of creative. It does say specifically 'like a Bosch' and inherently that suggests what people have come to know about the dishwashers."

Preiner says the company has not set a target for its new appliances but is looking to have a "significant increase in market share."

The campaign also includes a Facebook contest to win a new kitchen that builds off the campaign line by pushing visitors to the Bosch website to find a secret word to complete the sentence "Nothing ____ like a Bosch." Media was handled by GWA.

Bob's Your Uncle also created an iOS The Bosch Kitchen App to provide designers, architects and decorators with the detailed specs needed when designing a kitchen.

"Once you move into higher-end appliances like where Bosch is now with the full range, things have to be fitted and specified perfectly," say Froese.  "So the app is designed to make it really easy for architects and designers.