Making content, not ads
California-based Portal A's got 99 million views (and an ad ain't one).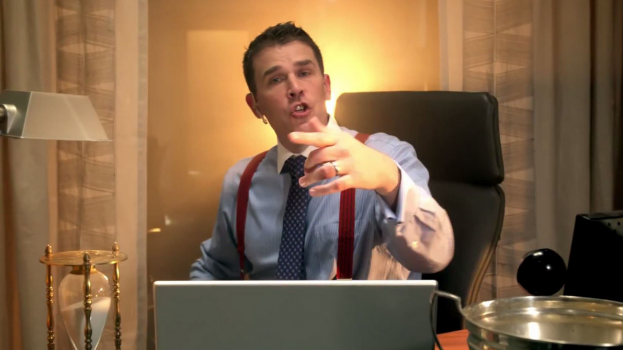 To get a sense of how far industrial videos have come from their static camera, dry corporate-speak roots in recent years, one needs look no farther than "This is How You Webinar," a series of spots for cloud-based webcasting company On24 that presents its branded B2B sales pitch in the form of tongue-in-cheek hip hop videos.

The campaign is the work of Portal A, a creative studio based in San Francisco and Los Angeles that prides itself in taking a digital native approach to branded content. It was co-founded by Nate Houghteling, Kai Hasson and Zach Blume, a trio of friends who've known each other since they were kindergarteners in Berkeley, Calif.

Portal A's clients include Relativity Media, Banana Republic, Kimpton Hotels, Benefit Cosmetics and #1 customer YouTube, for which it created "YouTube Rewind 2013," a spoof-y tribute to the biggest trending online videos of last year that has garnered more than 99 million views to date. It also created the reality series White Collar Brawlers, which debuted online and is now airing on Esquire TV.

We spoke with Blume by phone last week.

Q: Your trio of founders grew up together, but you came to Portal A from diverse professional perspectives.

A: I worked in politics and started managing campaigns in California. Kai worked at Current TV in San Francisco, and Nate worked for NewsCorp. Nate has kind of a writing background. Kai studied film at Yale, so he has the most traditional background, and I'm kind of on the business side of things;

Q: Why did you choose the online space as opposed to a more old school traditional media route?

A: We made this web show in college called Bathtub Yoga in 2004. After we graduated, we started working, and then we kind of disappeared to Asia for a long trip, where we created a show called Huge in Asia that we eventually sold to Lonely Planet. It was like a comedy travel show that took place in Vietnam, Cambodia and all over Asia. As part of that show, we made this video in 2006 called "Ghost Ride the Volvo," which became one of the early national viral videos. It kind of signaled to us the power of this new medium, that there weren't the same kind of gatekeepers that there are in traditional media. So we just started making stuff.

Q: When you're working with movie studios and TV networks, do you find they prefer you over a traditional ad agency because they think you're young and hip and you understand this space?

A: Traditional agencies are too slow, oftentimes they're too expensive. It isn't their expertise. So they look at us and they see a company that was born out of this ecosystem, and it runs through our veins. We're really attractive to them because we have very specific expertise and we're young and there's a fun vibe around our company. We're working directly with these brand clients and these entertainment outlets, as opposed to working through their agencies, so in a lot of ways we're seen as the young up-and-comers or the disruptors to the traditional agency landscape.

Q: Is the key to working in this space making ads that don't play like ads, but work primarily as entertainment?

A: The mantra that we say over and over again is "content, not ads." If we're ever making something that feels like a traditional advertisement, where the purpose of it is to interrupt what people actually want to be watching and slam messaging down their throats, then we're not doing our jobs right. People actually have to want to watch it and share it with their friends.

Q: Can you give us an example that epitomizes this?

A: A project we did with Kimpton Hotels last year that features a talking yoga mat that seduces a hotel guest. The purpose was because Kimpton was launching a new health and wellness initiative, and part of that was you get a yoga mat in every room, but it didn't say that at any point. It was just this fun, quirky piece of entertainment.

Q: You work with a lot YouTube creators who are used to working out of their bedrooms and garages. Is it hard to shoehorn them into a more traditional production environment?

A: The key is you have to cast them in roles that are natural to them. A lot of them are not naturally actors, so they in some ways have to play themselves. So you have to put them in situations that feel organic to their fans, and not try to put them in traditional roles.

Q: People have talked about how the online space has matured in recent years. Do you see that or is it still the wild, wild West?

"It's absolutely the wild West. It changes every month, so you're always trying to stay ahead of the trends. We know how to work with brands and translate their message so it plays in this wild west, and we also know how to create original entertainment. Those are the two sides of the company we're bringing together.