Holt Renfrew Centre gets hyper local
Aiming to drive traffic to its under-the-radar shops, ads will target users in Toronto's Yonge and Bloor area.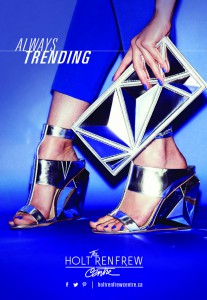 The Holt Renfrew Centre at Yonge and Bloor in Toronto, which houses Holts' flagship shop, plus various other stores, is tapping into anticipated TIFF-related traffic in the area, by pushing out ads on select lifestyle apps to smartphone users in the vicinity.

The campaign employs a high-impact mobile advertising tool which can target users based on their area, says Rob Hoosein, president, client services, Elixir Marketing, which worked on the campaign. While the campaign is not TIFF- or film-related per se, the centre's target are interested in elements that tie into TIFF – entertainment, fashion and style, he adds.

The tool geo-locates users based on their smartphone's GPS function and targets the Yonge/Bloor area with a focus on a 750 metre-range around Yorkville. The tech can also recognize if someone had been in the area prior to the kick-off period, based on their smartphone, and push out an ad.

Ads appear on social media, film, fashion, music, celebrity and fitness apps to drive people to the Holt Renfrew Centre's concourse level shops, which are often overlooked because they are not on the street level.

During TIFF, the majority of sales are often from street level shops, says Scott Harris, general manager, Holt Renfrew Centre.

The target is affluent women ages 25 to 54, who are strongly represented in two groups who live and spend time in the area  - Young Digerati, who are tech-savvy, affluent and highly-educated, and Electric Avenues – young singles and couples living lively, urban lifestyles, with average incomes, but who appear to have more spending ability because many don't have children.

Kicking off Aug. 25 and running until Sept. 14, the targeted mobile execution is a first for the centre. It comes on the heels of branding campaign in May and June that steered the centre in a more digital direction, after it determined its predominantly female market to be online constantly. Its new tagline "Always trending" ties into its meaning in the world of social media as being top of mind, as well as to the idea of the newest hot fashion, says Hoosein.