Bissell's subway dining for one
The self-admitted "conservative" brand took a risk, ditched the ads, dumped food on the floor and dug in for its latest social media push.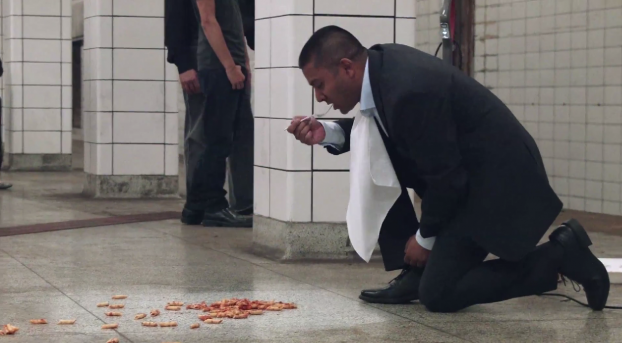 When you think of the dirtiest floors in Canada, which come to mind? A public restroom? A mall entryway? How about the floor of the subway platform?
If you were dared to eat food off that floor – would you?
Ravi Dalchand, senior brand manager at Bissell Canada would – supposing, of course, he had a chance to clean it up first. To promote the brand's latest steam vacuum cleaner, which promises to clean 99% of germs, Dalchand, along with the KBS+ creative team, headed to Toronto's Lower Bay subway station to do a bit of cleaning and dining – an unused platform.
Using handheld cameras, over-the-shoulder shots and quick cuts, the video is designed to feel amateurish, says Raul Garcia, CD at KBS+. The campaign really plays on the insights – so clean you can eat off it – to the next levels, Garcia says. The video starts off with Dalchand plugging in the vacuum and focusing on a single spot on the floor – after a couple of minutes, it's visibly cleaner. He then takes a take-out container of pasta and dumps it on the spot he just vacuumed, and proceeds to eat it up, even going so far as to take the bread roll to mop up the excess sauce. It was shot in front of extras, who were told they'd be filming on a subway car and were asked to wait on the platform. They were not told the stunt would take place, so the reactions were genuine, says Matt Hassell, CCO, KBS+*. At the end of the video, Dalchand, speaking straight to the camera, introduces himself, saying he stands behind his product.
"We decided to do something so simple, we're surprised it hasn't been done yet," Garcia says.
"Sometimes, just a torture test and a real truth amplifies the message," adds Hassell. "We're in an age where there's a lot of tools at our disposal – we could have shot this with drones – but sometimes when it's that's true and that simple, all you need to do is show it."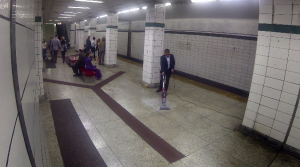 For his part, Dalchand didn't need a lot of convincing to take on the product test ("They told me it would help in my dating life," he jokes).

"Typically, we're a little conservative," he says of the brand's marketing outlook. "But because this product was so innovative, we felt we needed to shock people and tell a story a bit differently than we would otherwise. When they came up with the concept, it didn't take a lot of arm-twisting. It's a product I use myself and can get behind."

In fact, the agency team had presented the brand with a handful of creative ideas for the digital execution. "At the end of the day, they were ads," says Garcia of the ideas that hit the cutting room floor. "But this was a product statement. As soon as they heard it, everything else paled in comparison."

Launched today, the digital execution was designed to get people talking, and with any luck, will go viral. It'll be supported by PR, a TV buy, as well as social media and digital ads, targeting people who own houses in the 25- to 44-age range. It will run over the next 30 to 60 days, Dalchand says.

*Correction: an earlier version of this article said the subway passengers were folks off the street, when indeed they were paid extras. We've updated this piece accordingly and regret the error.