Ritz bites into UGC for new format launch
With Ritz To-Go hitting shelves, the Mondelez brand asks consumers to make their own comic strip.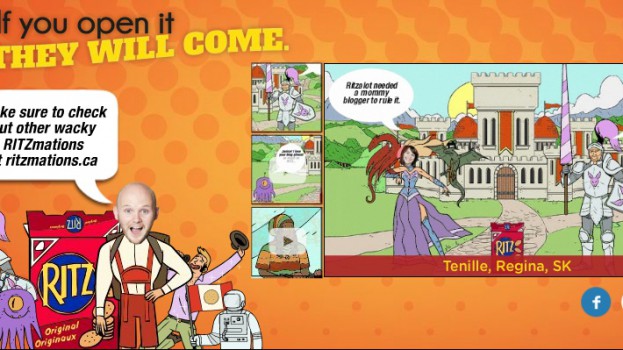 Ritz is tapping into the UGC space for the first time to promote its new on-the-go format and Bacon flavour.

Ritz To-Go was first launched in the U.S., and it was seen as a good fit to land on shelves north of the border last month, as Canadians are increasingly snacking and on the move, says LeeAnne Mele, senior brand manager, Ritz and Premium Plus Crackers, via email. Touting a transportable format, crackers are packaged in individual slugs (like the rows of a cracker or cookie box).

A campaign to support the launch of Ritz To-Go, featuring sampling, coupons, digital and a UGC component, kicked off last month and will be promoted actively until mid-November.

The Mondelez cracker launched a sampling initiative at five OnRoute Service Centres in Ontario (Port Hope, Trenton South, King City, Cambridge North and Woodstock) during Labour Day weekend – a busy travel time, which also taps into the new product's on-the-go nature. The sampling teams, with the Bavarian Mountain Climber character from a February TV spot on hand, gave out 97,200 packs, which also offered consumers $1 off via Checkout 51 when they buy Ritz To-Go. (The TV spot touts the tag line "If you open it they will come" and depicts a couple of skiers enjoying some Ritz crackers before they are joined by various characters, looking for the snack.)

The shareability positioning from that campaign is continued through to the current push. A RitzMations microsite gives consumers the chance to create their own comic, with the chance of it appearing in digital ads. It lets them devise their own "ultimate spontaneous Ritz get-together" through a three-panel comic strip, with the option to choose from different scenes and characters, and the ability to upload their own face to a character. Sampling teams also promoted the RitzMations initiative via iPads and flyer distribution.

The campaign was also supported with standard banners driving to the RitzMations site in its first six weeks. Rich banners showcasing the UGC, such as one developed for YouTube that will run numerous RitzMations comics, will kick off in week eight. The brand also worked with mommy bloggers and took to Facebook to promote the campaign.

The campaign's target is female "joie de vivre socializers" in their 30s, who are passionate about casual entertaining and enjoy impromptu events, says Mele. They are multimedia consumers, and use digital on a medium to heavy basis.  

"RitzMations puts the content creator right in the middle of the story – which is equivalent to putting her right in the middle of her social setting when she uses Ritz," Mele says, adding that the consumer is encouraged to share the comic, which also ties into how she shares the crackers with people at social gatherings.

Ogilvy worked on the RitzMations creative and execution, Inventa handled sampling and experiential, while MediaVest was responsible for media planning and execution.

Ritz has nearly a 15% share of crackers in Canada, and is the largest brand in Mondelez Canada's cracker portfolio, which also includes Triscuit, Premium Plus and Wheat Thins. Mondelez and its brands hold the category's top position.