Denny's does Hollywood
Ever wonder what your eggs and bacon get up to when you're not looking? The restaurant chain has a new web series just for you.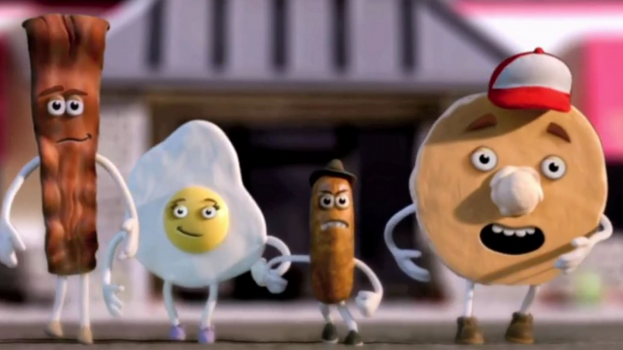 Chipotle did it with the Hulu series Farmed and Dangerous. Subway has done it with web shows such as Summer of Cimorelli. But no restaurant chain has done online series branding as overtly as Denny's is doing it with their new animated show The Grand Slams.

Not only is it named after the restaurant chain's most iconic menu item, the new branded digital branded content series stars the food on the plate — egg, pancake, sausage and bacon.

Produced by Stoopid Buddy Studios (Robot Chicken), the series will debut on Oct. 15 on TheGrandSlams.com and the Denny's YouTube channel with an episode about a diner debate on the merits of dessert vs. breakfast. New episodes will roll out through January, covering such topics as Halloween and coffee emergencies.

Additionally, viewers will be able to access the show's "cast" by scanning a QR code on Denny's placemats in-restaurant or via the brand's mobile app.

"As we continue to grow as a brand and engage with our millennial audience both on-and-offline, it is important we extend conversations beyond our diner walls and into the social world where they live and breathe," said John Dillon, VP of marketing for Denny's, in a statement.

It's not Denny's first foray into the web video world. In 2012, it teamed with Funny or Die to target Hispanic consumers with "The Skillet Whisperer," spoof on the National Geographic reality show The Dog Whisperer featuring that series' star Cesar Millan.

From Stream.