Fighting back against fry theft
McDonald's launches an addition to its app that gives you a new way to keep your eyes on your fries.
For some, having folks steal McDonald's fries off their trays is a concern that weighs heavy on their minds, so the restaurant is giving its consumer a mobile tool they can use to fight back.
Available within the McDonald's Canada app, users simply slide to arm the Fry Defender and place their smartphone near their fries. When the front-facing camera detects movement, an alarm sounds and the app snaps a picture, hopefully catching the perpetrator in the act. Diners can then "report" the theft by posting the photo on Facebook, Twitter and Instagram under the #stopfrytheft hashtag.
Fry Defender is being promoted through mobile, social and pre-roll ads that began on Nov. 6, and the restaurant has set up its first Tumblr site around the app that dives into the "history" of fry theft. Tribal Worldwide in Toronto developed the app extension, with OMD on the media buy.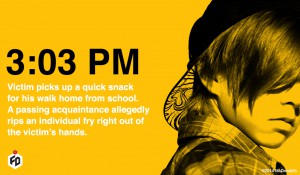 The tech behind the new addition to the app is fairly simple, and the serious nature of the  promotion around it is meant to be a little tongue-in-cheek.

"We don't judge a technology-based idea on how innovative it is. We just want to make sure the application of the technology makes sense," says Joshua Stein, executive creative director at Tribal Worldwide.

Prior to this, the McDonald's Canada's app was focused mostly on functionality, providing menus, nutrition information and proximity-based store locators. Tribal has worked with McDonald's on past social and app-based marketing like serving messages and offers based on the weather and time of day, or the "Our Food. Your Questions." transparency campaign.

While the video mentions a few possibly hyperbolic stats about how many Canadians have their fries taken from under their noses for humour's sake, Stein and Hope Bagozzi, senior director of creative and digital innovation at McDonald's Canada, both say that they saw mentions of it while doing social listening, realizing it could be used to bring more fun elements of the brand and some personality to its mobile strategy. Bagozzi says the QSR has been focusing more on mobile as more of its younger audience moves there, both in and outside of McDonald's locations.

"We've been getting into using [mobile] a little bit more as a marketing tool and doing more things like offers," she says. "[Fry Defender] is more about experiential and engagement, and it's just a little bit more fun."