Google Glassing the road less travelled
Royal Roads University wanted to bring its classroom to the world, so it teched-out some students for a virtual tour.
Want to relive your university glory days? Or are you a working professional just considering a change? Royal Roads University in Victoria, B.C. wants to get your attention.
In the school's latest fall push, the brand and its agency Cossette decided to take a teched-out approach in a bid to get potential students as close to the learning action as possible.
Using Google Glass and GoPro, the brand created a live virtual reality tour of the school. The live stream was hosted on a microsite, and integrated with Twitter to allow prospective students from around the world to tweet questions or requests at the Google Glass and GoPro-wearing students.
Catherine Riggins, director of marketing at the school, says the insight for the campaign came directly from faculty. "[They're] always saying 'you need to get into the classroom to show it off,'" she says. "It's really hard to explain experiential education with a print ad."
The video content will be banked for further use at a later date, she adds, saying they don't have set plans for the content.
The campaign was largely supported by digital targeting on Facebook, LinkedIn and Google, as well as a CRM push targeting "warm" students (that is those who've already expressed an interest in attending the school).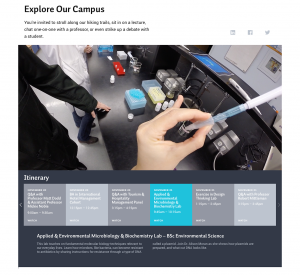 "Last year, we did a mass campaign, which did a great job of driving awareness, but we didn't see the conversion we were hoping to see," she says. As a result, the decision was made to focus on those warm students first, and create a campaign that could also generate some mass buzz.

While the virtual tour took place last week, supporting material will be in market for the next two weeks she says.