Natrel finds a festive face
As part of the brand's first-ever holiday push, Santa Claus gets a close-up on a milk carton.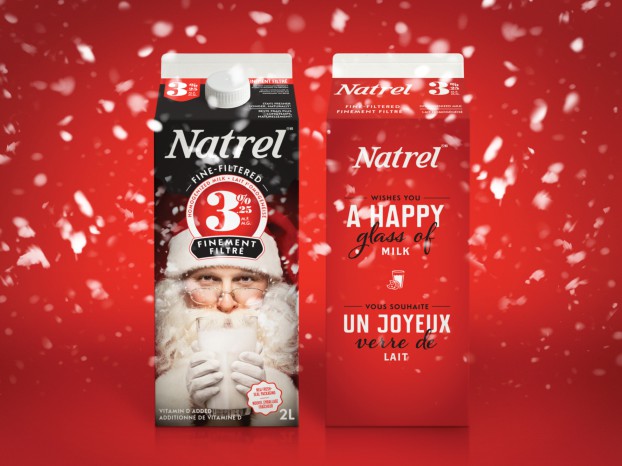 A new seasonal look for Natrel might cause Santa Claus to do a double take if he pours himself a glass of milk while delivering gifts to Quebec homes.

The jolly fellow in red is the key feature on the Agropur brand's 3.25% homogenized milk, which is part of its first-ever initiative around the festive season. The packaging push supports the brand's sponsorship of movie programming during the holidays across TVA and on Télé-Québec's Ciné-Cadeau, featuring two 15-second spots by Lg2. One wishes people a happy film and the other directs consumers to the brand's site to view three recipes to snack on while watching. They will also be able to customize a holiday movie programming schedule to place on their fridge on Natrel.ca.

Caroline Losson, VP marketing at Agropur, division Natrel, says the holiday push doesn't have a specific volume goal, but part of the brand's "strategic plan is to maximize consumer connection/interaction during key family moments," with the holidays being a vital one. And it could lead to a more extensive push next year.

The idea for the seasonal packaging was not born out of deep strategic thinking, but came from Lg2boutique graphic designer Marie-Pier Gilbert, who worked on Natrel's rebrand earlier in the year. She quickly mocked up the concept for the holiday packaging one day when the client was at the agency.

"It just felt right for the brand," says Losson. "It's really a nice, warm-feeling connection to leverage the holiday season and the iconic Santa Claus."

And while the packaging taps into Saint Nick's relatability, she says, the brand was concerned it could be perceived as not completely inclusive. So in an effort to connect with consumers of varying background and beliefs, the back panel wishes everyone "A happy glass of milk."

The Quebec-only packaging is featured on the brand's homo milk because of its pre-existing red colouring, says Losson, (it might not have been as strong on the other SKUs that have different colours, she explains).

Earlier this year, new, innovative packaging played a key role when Natrel repositioned itself with a premium and natural image. Losson says the rebranding has been well-received, and Natrel will continue to treat its packaging as a tool in its arsenal.

"Packaging design is one of the key touchpoints for us. It's our way to stand out."

Moreover, as the milk category declines, the seasonal look is a way to entice consumers to add a more premium product to their grocery carts, she adds.

Products with the seasonal packaging began to ship earlier this month and will be available until Christmas.