Keep calm and Danone
DanActive doesn't want to promise it'll cure all your blues. But according to its latest campaign, it'll feed you in the morning.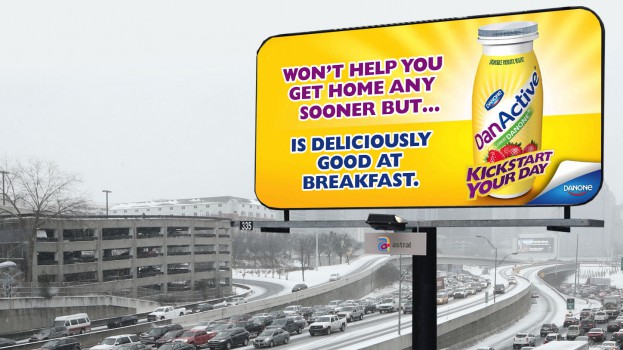 The latest campaign for Danone's DanActive is telling consumers that while it may not get you out of traffic or cure disease, the drinkable probiotic yogurt is a great way to start your day.

The new campaign, which will run between four and six weeks and includes OOH, radio, web ads and social media marketing, aims to reach consumers with 100 different variations of its "deliciously good at breakfast" tagline. Creative was handled by Saint-Jacques Vallée Y&R, while Carat took care of media buying and Bam Strategy handled digital.

"The consumer trend of transparency is strong," Pauline Varga, VP  of marketing at Danone Canada, said via email. "We preferred to nod to their reality and present the product in a realistic context. It's good for you, but realistically, it won't make the traffic disappear. It's all about keeping it real and telling it like it is."

Many other brands really over-promise with over-the-top taglines and ads, says Alex Lefebvre, account director at SJV Y&R.

Creatively, the brand wanted to veer in a different direction and focus on the true benefit of the yogurt drink – part of a convenient breakfast. In line with the brand's "Kick Start Your Day" campaign, the new ads are targeted to active Canadians and busy, on-the-go parents in particular.

The campaign is mainly targeting suburban commuters into major urban centres including Montreal, Toronto and Calgary, while digital OOH placements allow the brand to change the messages based on various situations to remain relevant to its target.