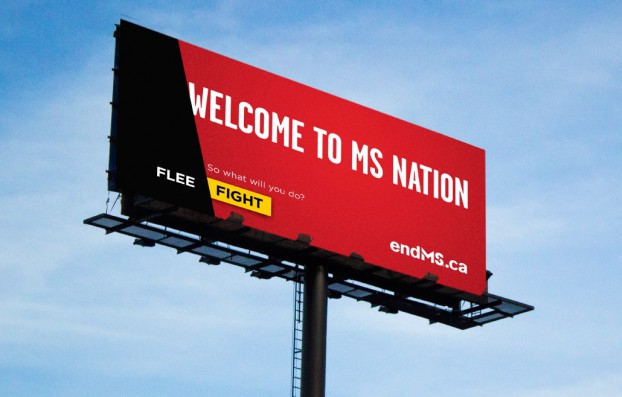 Will you flee, or will you fight? The MS Society of Canada wants to know.
In its new national campaign, the first major marketing push for the charity in about five years, the organization hopes to educate people here by focusing on a jarring fact – that Canadians have the highest rate of multiple sclerosis in the world.
It's not entirely clear why we are struck with the higher rates, although researchers have some ideas around lower vitamin D absorption (from lack of sunlight), dietary factors and other lifestyle conditions. "I'd call it the perfect storm of conditions," says Owen Charters, chief marketing and development officer at the MS Society.
Regardless, using that point to make the disease relevant to all Canadians was critical. Through surveying Canadians, the organization and Toronto agency Mackie Biernacki, which created the campaign, found that most people weren't aware of our special susceptibility to the disease.
That led to the new "Flee or Fight" campaign, launched recently with TV spots, online video, social push, OOH and radio components – all without a media buy, using only donated space. The campaign is also the first major work from Mackie Biernacki since the agency launched.
Two different 30-second TV spots will run on television and in cinema, with a 60-second version available online. The ads focus on all the things Canadians will fight for and asks that they continue doing so for MS research. Radio ads will also run, focused on localized stats around MS rates, so people can hear how their own community is affected.
A series of print and OOH components are also running until July, with some possibly running for the remainder of the year, depending on available donated media. A second phase of the campaign, focused more on fundraising, will launch in late May and run to Canada Day.
A major part of the campaign is its website, where users have the option to "flee" or "fight." If they choose to fight, they'll view information about why Canada is more affected by the disease, stories about the research being done and the people affected, and how they can get involved with the cause.
If they choose to flee, they'll be met with real-time flight and real estate information for several other countries with lower MS rates, information about moving abroad and even a link to the Government of Canada website where they can renounce their Canadian citizenship.
The MS Society has been quiet in its marketing for the past several years, partly because of budget constraints but also after news surfaced that an Italian doctor had potentially found a cure for the disease. Controversy surrounded the proposed treatment and it fragmented the organization's supporters, Charters says. "It became a real struggle to move our message forward and get out of talking about anything except that for about two years."
Though still focused on the people affected by MS, the idea for the campaign was also to move away from traditional advertising based on the symptoms of a particular disease, says Mark Biernacki, co-founder of Mackie Biernacki. "Instead of just being a symptom campaign, we figured we had to turn that around to make that relevant to anyone in Canada," he says.
About 100,000 Canadians live with MS, but many are still "in the closet" about having the disease, because it can be hidden and they may have fears around job security and other misperceptions about their abilities, Charters adds. The campaign is also a way for people to understand what MS is all about and to get people comfortable talking about it.