What's your entertainment personality?
The BIA for Toronto's Entertainment District is taking a cue from BuzzFeed to get locals to explore the neighbourhood.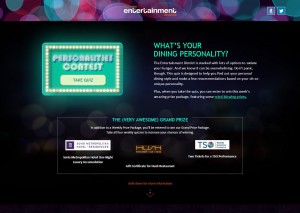 In a new online push, the Toronto Entertainment District is promoting its businesses and attractions to encourage locals to give them a second look.
This week, the neighbourhood's BIA has launched a new microsite hosting its "Entertainment Personalities" quiz. Every week, visitors will be able to take a BuzzFeed-style personality test for a different category. This week focuses on food, with future quizzes touching on events, nightlife and entertainment attractions. At the end of the seven-question quiz, the user is not only given their personality, but suggestions for the businesses in the area that best suit who they are and what they are looking for.
After completing the quiz, users can enter themselves into a contest to win weekly prize packages from local businesses specific to the category, as well as a grand prize that includes a one-night stay at the SoHo Metropolitan Hotel, a gift certificate to Hush restaurant and tickets to the Toronto Symphony Orchestra.
The quiz is being launched now and will be recreated in the fall to capitalize on the improving weather and reach people working in the area before they leave on vacation. Instead of drawing in people from other parts of the city, the push is targeted specifically at people already familiar with the Entertainment District in the hopes it will get them to explore areas and businesses they might not have before.

"We have a huge working population that's here during the week, so that's a pretty big group of people who spend their days in the area already but don't live here or stay here after their day is done," says Erin Stitt, marketing manager for the Toronto Entertainment District BIA. "That's also a lot of people that have gotten used to a routine and aren't going outside of it very often. If we can say, hey, explore one more place and try one new restaurant, it might encourage them to do it again and again."

In addition, Stitt says the residential population has been growing along with the increased condo developments in the area, which serves as a secondary audience to encourage to explore. By specifically highlighting different categories, the hope is to show people the area has more to offer than they might think.

"Everyone has an idea of what they think the Entertainment District is, but we're not just theatre, or just nightclubs, or just dining, or just Blue Jays games," Stitt says. "We're all of those things together. We're trying to demonstrate the diversity of what's here to people who might just know us for one thing."

The quiz and contest are being promoted with ads and sponsored posts on Facebook, and the BIA will also be utilizing the social media presence of the local businesses being featured in a particular week's prize package. Cundari was the creative agency on the campaign, with Mark 2 Marketing handling the media buy.

Stitt says utilizing a mobile-friendly microsite is a new tactic for the BIA, which had previously relied on working within Facebook.

"The goals and challenges have stayed the same for us, but how we're approaching them has evolved. And Facebook worked great for us when we used it, but it wasn't as flexible as it could be in the mobile environment," she says.