Mirum reorganizes to expand focus
The agency has laid off a handful of staff as it looks to bring in more diverse skill sets related to social content and video production.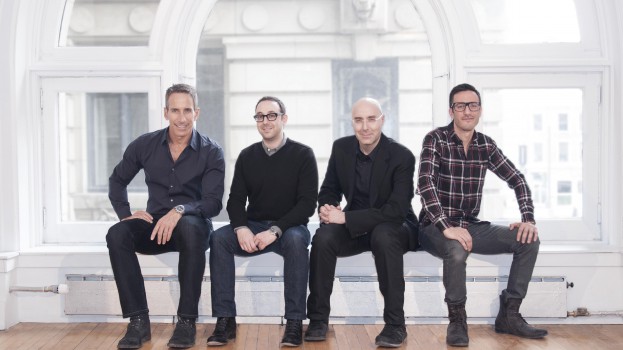 Pictured, left to right: Mirum Canada CEO Mark Goodman, COO Aubrey Rosenhek, president Mitch Joel and chief product officer Mickael Kanfi.

Mirum (formerly Twist Image) is restructuring, changing its staff to have a broader set of services and capabilities.

Mark Goodman, CEO of Mirum Canada, says the agency has been doing more social and real-time content, and will be bolstering its in-house production capabilities to facilitate that and create content more proactively. That is moving the agency away from the web and mobile site and app design that made up most of the agency's work seven years ago.

"That's where the industry was, and what it meant to be a digital agency was still evolving. What we did then changed and we will continue to change as we look at what's next," Goodman says. "Today, there's just a lot more variety to what we need to do as a digital agency, and so the restructuring is reflecting that, because we need more people in different areas and less concentration in one area."

Goodman confirmed that as a result of the changing focus, the agency laid off 10 staff between its Toronto and Montreal offices last week. The cuts were made across departments, though Goodman says areas like pure design and back-end development saw the most change. The agency will be bringing in six new hires in the coming weeks that reflect the kind of work Mirum has been trying to do more of.

"The departments affected are still robust, but they are smaller," Goodman says. "The people that are coming in will have skills more related to things like content creation, video production and social content, different types of skills to complement the ones we still have in those departments."

Part of the change is also to have all the different tools the agency might be expected to utilize for its clients, which Goodman says are at different levels of maturity in their marketing, operate in different industries and have different goals.

After being acquired by WPP in 2014 when it was still known as Twist Image, the agency was rebranded as Mirum in January, becoming the Canadian branch of a new global network comprised of 10 other digitally-focused shops owned by WPP and overseen by JWT.

"This change doesn't have anything to do with JWT. They are building out their own strengths, just as we are," Goodman says. "It's more a reflection of how we strategize with clients and where we take them and where the industry is at. It's also a bit client-driven, as they're starting to see they need to change the way they do marketing."

Goodman adds that one benefit of being part of JWT's global network is that it has opened up relationships with large organizations and marketing platforms like Adobe Marketing Cloud, Marketo and Sitecore, and Mirum has been building solutions within them. Mitch Joel, president of Mirum Canada, said in an email that, as part of its focus on real-time and analytics-based marketing, the agency is optimizing its technology teams to work with marketing automation as Canada begins to embrace third-party platforms.