A different angle on performance
Pirelli looks to convey just how many conditions its tires can handle with a series of interactive videos.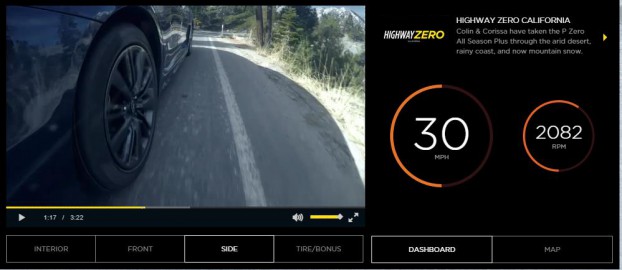 Italian tire brand Pirelli is looking to connect with car enthusiasts interested in high-end performance with "Highway Zero," its first major digital push in North America.

To promote the P Zero All Season Plus, a line of tires created specifically for the North American market, Engine Digital's Vancouver and New York offices developed a series of interactive videos that attempt to recreate a premium driving experience by offering viewers as many different angles on it as possible. GoPro cameras and drones capture a couple's trip to Marin County, Joshua Tree and Lake Tahoe in California, and viewers can switch between the interior view of their conversation to different looks at how the tire performs during the trip, all while different performance indicators (like speed, RPMs or a map of the terrain) show the conditions the tires are being put under.

On the website, visitors can also enter a contest to win a trip to Palm Springs, complete with a free car rental and GoPro camera to capture the experience.

While the target for "Highway Zero" is a more affluent auto enthusiast, Stephen Beck, co-founder and CEO of Engine Digital, says the videos are meant to convey the high-end performance of the tires in an environment that is relateable. By focusing on three different areas of California, it shows how the tire performs in a range of different climate conditions, and framing it around conversations happening during a road trip gives it a more human side.

"It's a customer that cares about the experience and aesthetics of the product, and are going to pay a little bit more for a higher-end product," Beck says. "Pirelli is very entrenched in the world of motorsports and that's really important to the brand's history, but at the same time we were looking at the best way to connect with the enthusiast that's more focused on their own personal experience."

Earlier this year, the company's new North American chairman and CEO Pierluigi Dinelli announced his plans to increase the brand's market share in the region, which included relying more heavily on social media marketing efforts to strengthen the relationship with regular consumers.

Beck says that the idea was to create a platform for the brand that could be applied to other product lines Pirelli might be focusing on, like off-road or racing tires.

Part of Dinelli's plan is also to focus on partnerships with traditional tire dealers, instead of e-commerce, so digital agency 6S Marketing (also based in Vancouver and New York) geo-targeted areas where the tire is available at retailers. Chris Breikss, co-founder and president of 6S Marketing, says the agency also re-targeted to viewers who may have not watched all three videos or didn't enter the contest, and used custom audience tools on Facebook and Twitter to send promoted posts to people on Pirelli's email lists.