KFC captures the moment
The QSR is using Periscope and wireless printing to help celebrate 60 years in Canada.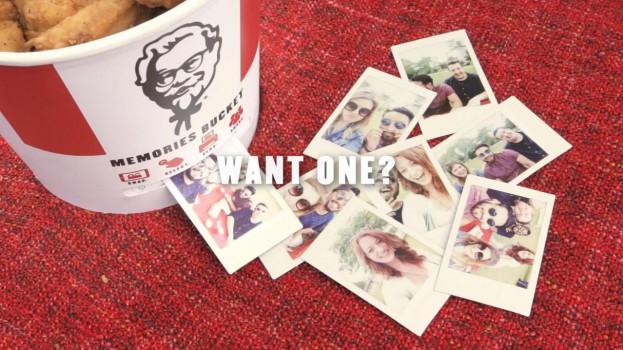 KFC has an anniversary to celebrate and a limited time product to re-launch this summer, so it's turning to some new tech to help make an impression on both those looking to try what's new and those more interested in a classic.

Launched last week to begin celebrations for KFC's 60th anniversary in Canada, Grip helped develop the "Memory Bucket," the first in a series of "Bucket Science" social videos that combine the classic KFC bucket of chicken with modern tech. Based on the idea that families used to form memories around their meals, the agency built a wireless printer into a bucket so photos taken during the meal can also be printed off instantly and the memories can be saved instead of being forgotten on your phone.

Going forward, Grip and KFC will be locating individuals that have posted about their excitement for the "Memory Bucket" and try to deliver one to them (full of chicken, of course).

Jeff Collins, senior copywriter on the project, says Grip and KFC are watching the feedback to the memory bucket to guide how the next execution in the "Bucket Science" series will roll out. While it's too early to say what form future projects will take, Matthew Stasoff, social content strategist at Grip, says the "memories" theme being used in honour of KFC's anniversary will likely be the common thread that ties them all together.

Aside from the anniversary, the restaurant is also celebrating its popular Double Down sandwich, featuring two pieces of chicken in the place of bread, returning with a spicy "Scorcher" edition this summer. Tomorrow, KFC will be hosting an event that will see imitators of the Double Down "destroyed." While some fans have been invited to attend live, those that can't attend will be able to livestream it via Periscope. The event is serving as a teaser for permanent online video that will soon be launching to promote the sandwich's return on Aug. 10.

"Periscope is new and there is a cache to it that ties into the social buzz around the Double Down, but we also wanted a way to bring the world in so they can get an idea of what we're doing and be reminded of the sandwich before it's launch," Stasoff says of pairing a regular online video with a live-streamed event.

"The key driver for the bucket is the families that gather around it, and those aren't necessarily the same people who are running out with that 'FOMO' ["fear of missing out"] mentality to get this unique sandwich and try it for the sake of trying it, and Periscope is where their memories come from," Collins says.