Biotherm Homme's adventurous anniversary
The brand's first online influencer campaign reflects its core values in a boundary-pushing three-day trip.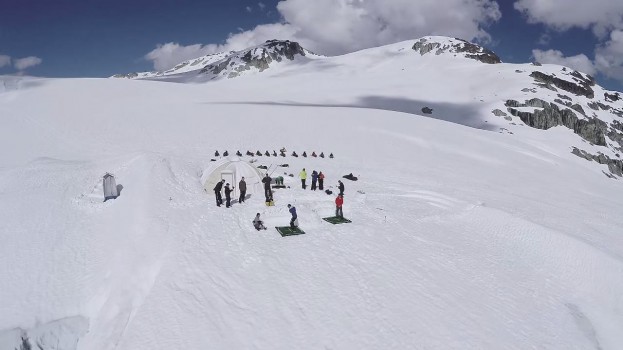 To celebrate its 30th anniversary and the launch of a new cream that lasts 72 hours, men's skincare brand Biotherm Homme took a three-day trip that had something for every man with "#72HoursofMan."

In a series of videos on the Biotherm YouTube page, Exacto Communications enlisted a roster of influencers, including competitive eater and YouTuber Furious Pete, style blogger Alexander Liang, Sidewalk Hustle co-founder Tristan Banning and Men's Health associate fashion editor Dan Michel. Over the course of three straight days in British Columbia, the men were taken to the top of a glacier to play golf and do vodka shots, zipline in Whistler, take on the rapids in the Down Green River and enjoy fine dining and wine. GroupM handled the media buy.

The locations were chosen to have some kind of connection to water, as that has been at the core of the brand's image and products (it's also a key visual that men first see when being introduced to the brand). Isabelle Randez, communications director for the L'Oreal Luxe division at L'Oreal Canada, says the brand was looking not only to help launch the new Aquapower 72 Hour hydrating cream (hence the three-day-trip), but to celebrate it 30th anniversary.

"We knew we wanted to do something big, and realized a more traditional PR event wasn't going to cut it when it came to hitting the full target and speaking to men," she says. "Performance, masculinity, authenticity and simplicity have always been core values for the brand, and the idea we chose embodied that by overcoming fears and pushing limits. Providing experiences based around water is a way to show all of those."

Randez says Biotherm Homme has typically targeted both men and women, as significant others often have a role in making purchasing decisions when it comes to skincare. For the new campaign, the brand was looking to speak to men more directly, and Randez says using influencers builds on Biotherm Homme's history of using people like Iron Man triathletes and extreme sports personalities.

As the brand's products (including the new Aquapower 72 Hour) are meant for all age groups, the events were chosen to have as wide an appeal as possible, ranging from the more adventurous things in the wilderness to the sophisticated and relaxing setting of a restaurant. In addition, the influencers each have strong followings on different platforms, from YouTube to Instagram to traditional print, in order to reach every possible demographic.

Randez adds that by bringing together a group made up of different people created an interesting mix, with each influencer bringing their own following and allowing the brand to reach a range of consumers.