New Balance makes a trip to the other Canada
The shoe brand celebrates a pair of sneakers exclusive to the North with a surprise south of the border.
The 574 Woods Pack is a line of New Balance's popular 574 sneaker available exclusively in Canada, and the brand wanted to let fans of the shoe know they were the only ones who had access to it.
In a new campaign, the company and agency Havas Worldwide Canada took a trip Canada, Kansas, a small farming town of just over 100 people. Once they got there, they gave every resident a pair of the new 574s, ensuring that everyone who lives in Canada has a chance to get them.
The campaign will also be supported in-store with point-of-sale posters. Leading up to the video's launch this week, Havas also launched a series of 15-second videos on social media that teased the idea of the trip, and will be running post-launch videos in the coming weeks sharing extra footage from the full-length spot. Havas has been New Balance's AOR for a number of years, but this is also the first campaign on which the agency's mandate has included media as well.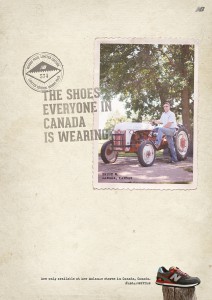 The campaign is targeting sneaker enthusiasts and collectors and is based on the insight that some more passionate consumers can sometimes feel frustrated when products are available in the U.S. first, or are exclusive to that market. Cory Eisentraut, VP and creative director at Havas Worldwide Canada, says while making the new shoe available to a select group of Americans might seem counter-intuitive when trying to celebrate a product's Canadian exclusivity, it allowed the agency to try something a bit more clever with taglines like "Exclusive to Canada and Canada" and "You have to live in Canada to get them."

"To the people that love and collect shoes like the 574, which has become kind of iconic for New Balance, this hardly ever happens," Eisentraut says. "But because it's a limited edition and small number of shoes, we had a small budget for something that's a big deal and deserves to have some noise around it."

As passionate as collectors can be, with blogs and videos showing off closets filled with boxes of shoes, offering them something unique isn't always enough to grab their attention.

"One insight we were playing on was that sometimes, even when we do get these exclusives, we don't appreciate it," Eisentraut says. "We wanted to make Canadians appreciate how special these are by giving them to a group of people who are going to feel special. This is a tiny community, so they were so appreciative that we came to town and honoured them as Canadians."