Taste this: Liberté gets a new focus
The Greek yogurt brand has a new platform and its focus is (hint: tastefully) simple.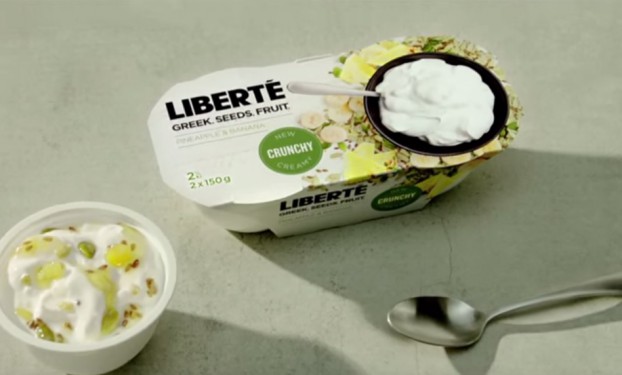 Quebec brand Liberté has launched a new brand platform centred on what the company believes is the single most important thing when it comes to its yogurt – taste.

In a new integrated campaign from Cossette Montreal, the brand is focusing on attributes like creamy texture and crunchy seeds and nuts that make its product line stand out.

For the past year-and-a-half, Liberté had used the "Thank You" platform, with lines like "Thank You Simplicity" and "Thank You Purity" in its marketing. Now, it plans to use "The Taste Liberté" platform, an evolution of the focus on simple, quality ingredients, for the next two years.

"We don't want to be funny, we don't want to be disruptive, we just want to showcase the best product," says Jenny Chiasson, communications manager at Liberté Canada.

In a national TV spot (with French and English versions), the new Liberté Greek Seeds & Fruit product is made the star, placed front and centre to look as inviting as possible. "Getting spoons in mouths is really our goal," says Janine Hopkinson, creative director at Cossette Montreal.

The spot also highlights an "on-the-go" lifestyle, positioning the product as one that can be enjoyed in what Chiasson calls a "multi-meal culture." In other words, rather than being only a breakfast option or dessert option, it can be a snack for various times to keep consumers going in their busy lives.

Overall, Liberté is also targeting health-conscious foodies and "aspiring foodies" who have an appreciation for simple and fresh ingredients. Placing the focus on taste is also helping it differentiate it from other yogurt brands that market other product attributes, such as calorie counts, health benefits or package portability, Hopkinson notes. Liberté is currently the number two Greek yogurt in Canada behind Danone's Oikos brand, except in Quebec, where it takes the top spot.

The brand also teamed up with Quebec musician Dumas on a song for the TV ad and an exclusive music video being shared on its product page and social media. "We always want to have a French touch in our commercials," Chiasson says. Teaming up with a Quebec artist also helps emphasize Liberté's artisanal approach, Hopkinson adds.

The new campaign also includes digital and static outdoor signage and online ads, with planning and buying by Cossette Media.