Nordica's smooth operation
The brand's new product and campaign go after those who aren't yet fans of cottage cheese.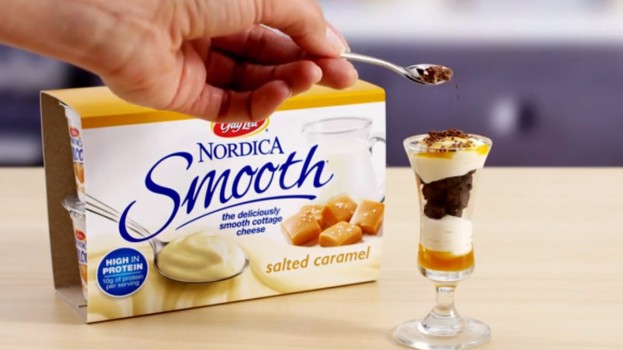 Sometimes, just a little bit is enough.

To promote its new Nordica Smooth cottage cheese, the Gay Lea brand has kicked off a digital campaign all around (literally) tiny tastes – to show that a small bite is all it takes to appreciate the snack.

Working with Agency59, the brand has launched two digital videos – running as pre-roll and on social media – introducing the two flavours (salted caramel and vanilla bean) and showing that a tiny bite (with a teeny spoon), is enough to get you hooked.

Two other digital videos put a miniature spin on cooking with the products, showing how to make a tiny parfait and minuscule muffins.

Nordica's product, which began shipping to stores in July, is currently available only in Ontario, where the brand has 58% market share of cottage cheese. While it has in-store support for the core Nordica brand, this is its first major campaign in about two years.

"Cottage cheese has a negative connotation to many people," says Robert London, senior product manager at Gay Lea Foods. There is currently 46% household penetration of people who eat cottage cheese, leaving a large segment that still needs to be convinced, he notes. The texture often drives people away, so the smoothness of the new product and convincing people to just try it were really the key messages.

Overall, Nordica has a broad target for the Smooth product, which is positioned as a high-protein, healthy snack for people on the go. Having a digital campaign was the best way to reach a cross-section of people, since so many people spend time online, London says.

The brand also worked with Harbinger to have sampling in the "Elevate Lounge" during the Toronto International Film Festival in September, where it also distributed tiny swag bags.

It is also doing heavy product sampling to drive trial of the new product, both in store and at events such as the upcoming National Women's Show in Toronto.

Nordica's campaign also includes OOH. Bang Media handled the buy for outdoor, with SearchKings leading the digital media buy.