Campbell's new year plans
Company president Ana Dominguez talks millennials, media mix and changing paradigms.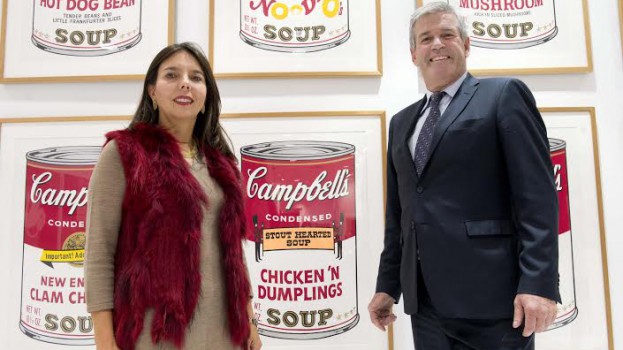 Pictured: Campbell Company of Canada president Ana Dominguez and Arthur Potts, Liberal MPP and parliamentary assistant to the Minister of Agriculture, Food and Rural Affairs, celebrate Campbell's 85th anniversary at the "Andy Warhol: Revisited" exhibit in Toronto.

After 85 years in this country, Campbell Company of Canada has been undergoing a shift in its marketing, communicating more with millennials and touting its lack of preservatives with the Healthy Request relaunch. As the company celebrated its anniversary in Toronto this week, we sat down with its president, Ana Dominguez, to talk about what else the company has planned for the new year.

Going into 2016, what are some of your plans and priorities?

I think we are definitely redefining the media mix that we use for all our brands. "We All Soup" and the Healthy Request propositions are very relevant for that [millennial] target but all our media mix is very different. Just a couple of years ago, 80% of our investment was against TV. That's not happening any more. We're redefining our "Cook with Campbell's" website so all the recipes and the technology itself is designed against millennials and how they use technology nowadays. For the first time, we're doing whole new campaigns that are only based on digital platforms, no TV. That's a big, very different, bold move for Campbell's. With Goldfish for example, we do have TV, but our launch for Plum [Organics], the baby food line, has no TV, it's all based on digital, Facebook, interactive mediums that we're using.

What's been the biggest challenge with making that transition in your media mix and going after millennials?

I think breaking some paradigms internally. I think everyone kind of wants to do it, but when you actually have to make the tough choices about "no, we're not going to invest the money behind TV, we're going to put it all behind digital platforms," that's tough to do. And then there's always the risk associated with it, because you don't have all the measurements that you're used to having with TV, so that's hard.

Globally, Campbell's has introduced this platform around transparency and things like a lack of preservatives. How do you differentiate in Canada?

The wonderful thing with Campbell's Canada is we develop our own innovation and our own marketing. I would say when you look at our portfolio today, less than 5% has high-fructose corn syrup or artificial colours or flavours. That's very small, and it is because of the choices that we've made in Canada throughout the years. So that's something that we can do here that not many companies that are global can do.

Sustainability is also a big topic. How do you stand out when everyone's talking about being green?

People forget that cans, which is of course our number one packaging, are 100% recyclable and even the cans themselves are made with 30% recycled [material]. But it is hard. We continue to make the right choices in terms of our waste, our use of water, but I would say the new platform that we're putting forward with [the website] "What's in My Food?" will allow us to talk more about those things that we normally don't communicate.