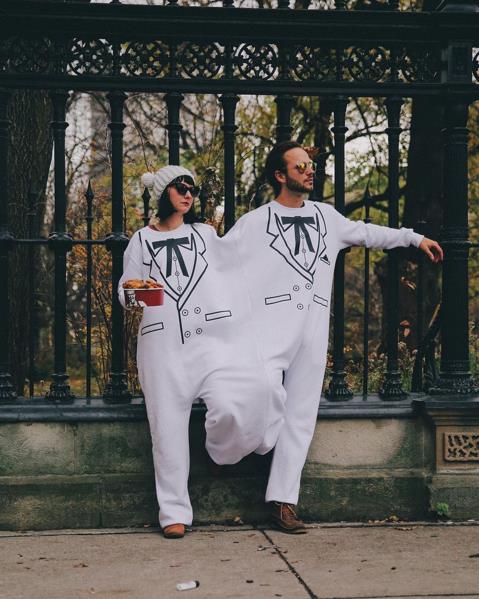 KFC is taking a page out of the Instagram influencer playbook to build attention around a new piece of fashion it has created.
To promote KFC's Chick'N Share offering (a two-person sized bucket), agency Grip has created a two-person onesie made to look like Colonel Sanders' signature white suit that friends can wear together. Grip has been taking photos of social influencers and YouTube creators inspired by "street style" fashion content popular on Instagram and posting it on KFC's account as a way to build buzz for the "Colonel twosie." In addition to influencers posting their own content, Grip will also be handling a paid Instagram buy featuring single and carousel ads on the platform.
"When you think of a bucket of chicken, we talk about it as the great leveller, with everyone digging in to the same bucket, engaging with each other and sharing stories," says Mew-Lin Teh, digital marketing manager at KFC parent company Yum! Brands. "That's really what we try to get across in the social space especially, that it's a fun brand that you eat with your friends. Since Chick'N Share is something we've added for smaller group occasions, the twosie is celebrating having that same connection with just one other friend."
Similar to what the agency did for KFC's "Memory Bucket," Grip will be monitoring social engagement through the campaign, delivering actual twosies to individuals that have expressed an interest.
"We like to use the community as the measurement for whether one of these products fits with them, so once that interest level peaks, we can shoot that off to them in the form of product," says Matthew Stasoff, social content strategist at Grip. "We want to look at how we leverage each platform so we're not just reusing things from one platform to the next. With the 'twosie' content having that fashion influence, we felt Instagram was the best place to showcase that."
KFC is also running a TV campaign, with buying by MediaCom, promoting the Chick'N Share, although that is more of a traditional campaign reaching the QSR's slightly older demographic with creative emphasizing the family connection, unrelated to the "twosie."
"KFC has a rich history and we know there's a loyal fanbase," Stasoff says. "But that does rely more on the mature demographic. I think the way we've looked at executions in 2015 and what we're looking forward to doing in 2016 is creating those same kinds of memories and connections with this younger target and the 'next generation' of KFC fans as well."