Molson Canadian's latest grand hockey gesture
The beer brand's plans for the rooftop rink that had Toronto buzzing this week.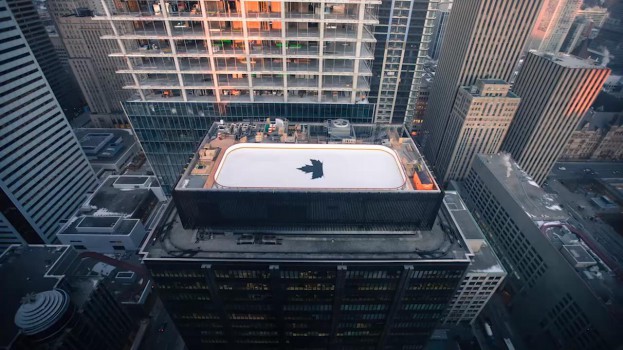 After nearly a week of speculation, Molson Canadian has pulled back the curtain on its rooftop rink, though you may have to wait a bit longer to see the campaign that comes out of it.
As people began returning to work in Toronto's Financial District following the new year on Monday, some noticed the rink being built on a neighbouring rooftop. Many began to make the connection to a similar concept Molson teased in a video last fall, and the connection was all but confirmed when a maple leaf resembling the one on the brand's logo was painted at centre ice and tweeted out by the brand.
#AnythingForHockey pic.twitter.com/BNh2EDrjSL

— Molson Canadian (@Molson_Canadian) January 5, 2016

Today, Molson has attempted to satisfy the appetites of hockey lovers eager to learn more. Though the campaign featuring the rink isn't set to launch until next month, it released a timelapse video of its construction.
Molson chose the lucky people who get to play a game on the rink through a contest (which closed on Dec. 10) where Canadians could explain why they were among the country's most dedicated hockey fans on social media using "#AnythingForHockey." The attention the rink has received could change who gets to skate on it, though.
"Although we built the rooftop rink exclusively for our contest winners, we know there are many more fans out there who would love to skate on it," said Chris Blackburn, director of marketing for Molson Canadian. "We have certainly been listening to every comment and hope to share some exciting news soon."
Preparation for the rink began at the end of November, with equipment being lifted to the 32-storey-high rooftop by cranes positioned on a neighboring condo development. The rink is roughly half the size of a regulation NHL rink, which makes it more suitable for smaller, three-on-three games. Construction on the rink won't be fully completed until Jan. 10, and will include access stairways, relocation of roof-top vents and a special drainage system (the ice surface is cleaned with hot water and an ice scraper, with snow melted using hot water and drained, since it can't be shovelled off the roof).
Molson also appears to be investing a great deal in this year's campaign, as the rooftop rink costs upwards of $100,000 a week to keep operational.
Blackburn said, much like last year's "Anything For Hockey" campaign that flew contest winners out to a remote rink in the Rockies for a game of shinny, this year's campaign is about celebrating the love some have for the game by offering them once-in-a-lifetime hockey experiences.
Last year, Molson's "epic rink" was used in TV spots, with stories of the people who visited it being shared in digital and social videos. That was just one of many experiences Molson gave hockey fans during last year's "Anything For Hockey" campaign, which included a launch stunt at Yonge-Dundas Square that included an elevated viewing platform where fans could watch a game and live music featuring The Tragically Hip. The entries alone for last year's campaign increased social engagement for the brand by 350%.