ParticipAction laments lost playtime
The non-profit encourages less screen time for kids with an emoji-inspired look at what they've left behind.
ParticipAction, a non-profit aimed at promoting more active lifestyles for Canadians, is again hoping to help cut down the amount of time children spend in front of screens with a new spot in its "Make Room for Play" campaign.
A follow-up to last year's campaign by Zulu Alpha Kilo, the spot once again features elements of the digital world imposing themselves into the world of play. This time, it features all of the saddest emojis as faces on the balls that kids have all but left behind in favour of sitting in front of screens, while Bobby Vinton's song "Mr. Lonely" plays.
The video will appear in both English and French online, through donated TV time and through ParticipAction's social channels, as well as a print campaign that also plays off the emoji concept. Zulu's work, as well as that of production house Circle and director Tom Feiler, was done pro bono. Though like last year, the video ends with a cheeky "don't visit our website," the ParticipAction site features information for parents about the benefits on cutting back on screen time and ways to encourage physical activities in their children.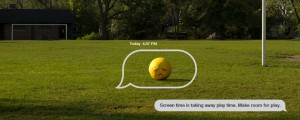 Rachel Shantz, director of marketing at ParticipAction, says the campaign is not about cutting digital devices out of the lives of children altogether, but balancing out the sedentary time spent sitting and using them with play and physical activity. ParticipAction's research has suggested kids in Canada are currently spending around eight hours a day in front of some kind of screen, four times more than the recommended amount of two hours a day.
"[Digital devices are] here to stay and using them is part of modern life, but this campaign is about moderation," Shantz says.
She adds that the new spot is largely taking the same strategy from the first campaign and refreshing the creative to restart the conversation it began with last year's push. That campaign, which was also driven by donated media space, resulted in more visits to its website than during periods where they were running paid media campaigns, roughly two million video views over 10 weeks and some of the organization's highest levels of social engagement.
"We're a not-for-profit with a limit budget, and with a very limited investment, we had a great impact," Shantz says. "Great organic social sharing happened, which is a big part of this. It's not just us talking to people, but making sure people carry the conversation on without us. The fact that we did strike such a chord and its not a topic that's going away warrants keeping the conversation top of mind."
Shantz says the campaign is targeting parents who might be having a hard time finding ways to moderate the use of digital devices in their children, especially during the post-holiday time when many kids have just received digital devices as a gift.
"You make sure they go to bed on time and watch what they eat, but you don't think about it when they're quiet and the electronic babysitter is working," she says. "Part of the issue is that it's saturated our lives so fast that they don't know how to approach it, but we've heard anecdotes that last year's campaign did get parents to think and talk about it, which we're hoping to do again with a creative refresh."