L'Oreal brings its UV patch to Canada
The smart patch from La Roche-Posay helps tell the wearer when it's time to reapply sunscreen.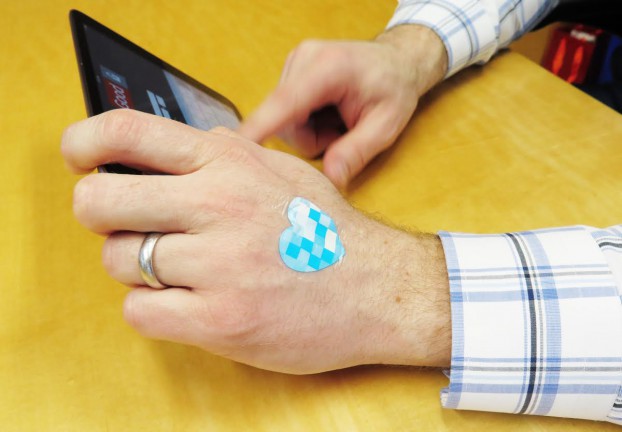 L'Oréal brand La Roche-Posay will bring its My UV Patch wearable product to Canada this summer, working with dermatologists to get it into the hands of consumers, and handing it out through experiential activations.

The patch was revealed at the Consumer Electronics Show in Las Vegas earlier this month. The stretchable skin sensor is a transparent adhesive patch that helps monitor UV exposure. About a square inch and 50 micrometers thick (half the thickness of an average strand of hair), the patch has photosensitive dyes that change colour when exposed to UV rays and help the wearer know when it's time to reapply their sunscreen.

For the most accurate reading, users take a photo of the patch and upload it to the My UV Patch mobile app, which will then determine how much sun exposure the wearer has had and provide guidance about that exposure based on things like the person's eye colour and skin colour. For Android devices, the app incorporates NFC-enabled technology to help scan the patch.

"Previous technologies could only tell users the amount of potential sun exposure they were receiving per hour while wearing a rigid, non-stretchable device," Guive Balooch, global VP of L'Oréal's Technology Incubator, said in a press release. "The key was not only to get the data analysis right, but to design a sensor that was thin, comfortable and virtually weightless so people would actually want to wear it."

The patch is expected to become available to consumers in La Roche-Posay's global markets throughout the year. In Canada, the patch will be available roughly from May to August, depending on how quickly supply runs out, through dermatologists and through experiential activities in the summer.

Those events will be a continuation of the brand's international "Become a Skin Checker" campaign, centred on educating people about checking moles, which began last year.

"The whole insight [for the patch] came from the fact that you can provide the right products, you can teach people how to wear sunscreen but the reality is people don't reapply when they're supposed to or they don't know what the safe sun habits are," says Jasmine Tsang, product manager for Anthelios, La Roche-Posay's sun care brand.

Specifically in Canada, 38% of people don't reapply their sunscreen at all. That's despite one in three cancer diagnoses in Canada being skin cancer. However, 90% of those are curable through early detection, making things like proper use of sunscreen so important.

"Become a Skin Checker" meanwhile, was created in part because research by the brand suggested that 73% of Canadians care more about loved ones than about themselves. An education-based campaign, the brand used events to target Canadians broadly and encourage them to know what to look for in terms of skin changes and look for those changes on others. La Roche-Posay works with High Road Communications for PR and experiential.

This year, La Roche-Posay plans to continue its experiential events across the country, incorporating the patch into education and giving it out for free to consumers.

Ideally, the brand will be able to make the patch a more mass product in 2017.

L'Oréal's Technology Incubator in the U.S. worked on the patch with electronics company MC10 Inc., which specializes in systems for biometric healthcare analytics and PCH, which design engineered the sensor for commercial production.