Creative Report Card: Lg2 packs a punch
The #2 agency's resourceful Quebec City office scored big in this year's Report Card.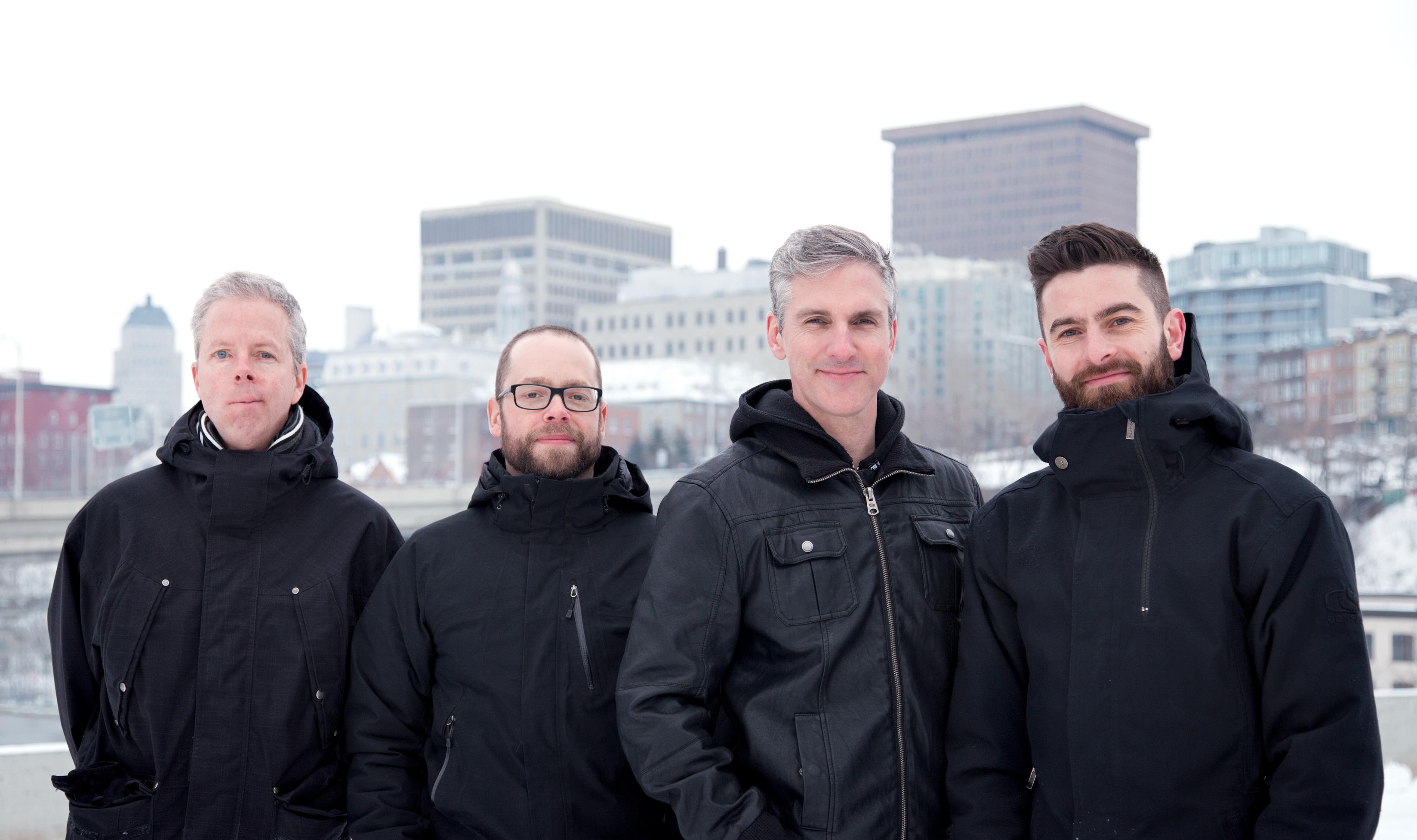 From left: Jean Lafrenière (#3 CW), Nicolas Boisvert (#2 CW), Luc Du Sault (#2 CD/#2 AD/#4 CW) and Vincent Bernard (#20 AD).
This story appears in the February/March 2016 issue of strategy.
#2 Agency
Anyone can appreciate the maxim "dynamite comes in small packages" after watching Lg2′s 30-person Quebec City office basically bogart the agency's trophy cabinet in 2015. It's only a fraction of the size of its sister shop in Montreal (one-fifth to be precise, with the latter office employing 200 people), yet it managed to claim 82% of the points Lg2 as a whole scored in this year's Creative Report Card.
So what are they doing right in the French province's capital city? The answer isn't just what they're doing, but also what they're not.
They're not becoming bloated with bodies: they've kept the team small, partially because of smaller budgets and brands, but mostly because it works for them. The same four creatives, including Luc Du Sault, partner and CD (who landed at #2 on the CD list), and the remaining 26 support staff work on every piece of new business that comes in.
This leads to more open communication, says Du Sault, and in some cases, craft swapping — one day a copywriter could be working on taglines, while the next he/she could be designing print ads (such as when #3 AD/#6 CW Laurent Francoeur-Larouche wrote and partially designed the animated beer casks in the Farnham Ale & Lager posters that picked up a couple of Bronze Lions).
"Everyone is involved in so many levels, from creative thinking to strategy to execution," says Du Sault, adding that the close-knit nature of the group means the entire office is constantly communicating with each other about projects, which sometimes results in someone pitching in to do something that others may have thought was outside of their usual realm.
The office houses an AD who is also a carpenter on the side, a copywriter-cum-singer/songwriter, a producer who moonlights as a fashion designer, and even a Mac artist who builds electronic devices. The coadjutant environment allows the agency to be resourceful and make the most of their sometimes miniscule budgets ("advertising culture in Quebec City is almost non-existent," Du Sault says). For example, the aforementioned AD/carpenter, Vincent Bernard, personally custom-built a "trick" bus shelter billboard, where a magician hid and surprised bystanders, for a recent Quebec Magic Fest stunt.
While the Quebec City office did exceptionally well on the awards circuit for brands like Farnham and the SAAQ, the Montreal arm also had a good awards run for clients Bell, Quebec Cinema and Reviveaphone. And the freshly-opened Toronto office picked up accolades for its work with Nike. Du Sault describes the offices as being a family of "brothers and sisters" — especially since the agency is 100% employee-owned. Back in the early 2000s, the founders set up Lg2 to remain independent by selling shares to staff who they believe will maintain Lg2′s indie philosophy.
Today, there are over a dozen staffers who own shares in the agency, across all three offices, says Du Sault. "In Quebec right now, there are few bigger agencies that are independent," he adds, pointing to Sid Lee being purchased by Japan's Hakuhodo, Bos bought by Tokyo's Dentsu and a majority stake of Cossette being purchased by China's BlueFocus Communications. "We're one of the last big Canadian independent agencies in Quebec…For us, independence is when you can stand by the quality of your product [without having to answer to anyone else]. And the quality of the product is the guarantee of growth."
Farnham's bittersweet posters
#4 brand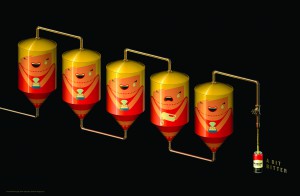 Some of the wins: Cannes Lions Bronze, Clio Silver, Créa Grand Prix

There are only so many jovial ways to market a bitter beer. "Bitterness could easily suggest drinking when you're sad, which is a trap," says the Lg2 creative team that worked on the Farnham Ale & Lager "A Bit Bitter" posters, which helped the beer land at #4 on the brand list.

The print ads used the clever play on words to describe both the taste of the ale and the bitter relationship dynamics between a man and woman, a fisherman and the sea, as well as soccer teams.

"We happened to find some beer-making diagrams and saw the [beer brewing] tanks, which had a Fisher-Price [look and] shape," says the team of the process behind the illustrations that show four out of five tanks with the same happy image (a woman gleefully holding a diamond ring, for example), while another tank reveals a slightly more bitter image (a woman holding a whisk), indicating the beer's slightly more bitter taste compared to its competitors.

View the full 2016 Creative Report Card here.