Inside WestJet's fight for the skies
In two decades, the airliner went from being a challenger brand to one that upstarts want to challenge.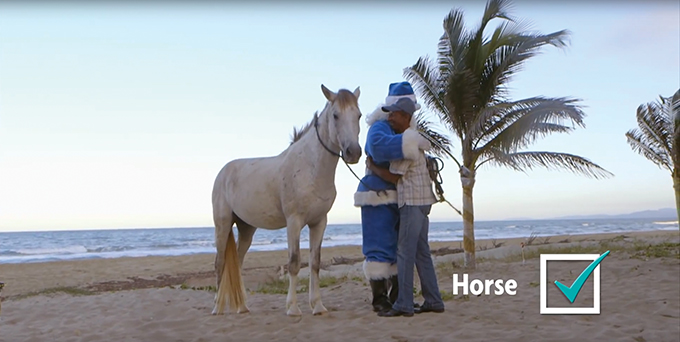 This story appears in the February/March 2016 issue of strategy.
WestJet celebrates its fifth birthday this month, despite having been in business for 20 years.
Its birthday falls on Feb. 29 – a date Bill Lamberton, the Calgary-based airliner's original director of marketing from 1995 to 2004, says was intentionally picked to set the brand's tone.
WestJet is fun. It's quirky. It's corny. It wants to be seen as a little out there, he says. So why not only celebrate anniversaries every four years? That fun-loving strategy has been the key to its success, two decades later.
The fact that it reached 20 years is an achievement in itself, especially considering most of the competition that was around when WestJet launched has since gone to that big airstrip in the sky. Indeed, Canadian Airlines, Roots Air, Vistajet and Greyhound Airlines (the latter three launched within five years of WestJet) all shuttered at the turn of the millennium, leaving only two airlines offering cross-Canada flights.
WestJet started as a challenger brand, the pirate of the air, a plucky David to the Goliaths, says Philippe Garneau, president of GWP Brand Engineering, who worked on the Canadian Airlines brand and has since followed the industry closely. WestJet was known for its humour and for caring about its passengers.
But its early growth was also hindered by its low fares and positioning as a discount airliner. It didn't go after the business traveller, preferring instead to target parents visiting their kids for a weekend or students on a jaunt to the Rockies.
Today, while it still tops many brand popularity lists (Canadian Business named it Canada's third-best brand this year, Interbrand's Best Canadian Brand list ranked it 20th in 2014, and it grabbed one of strategy's Brand of the Year titles that year), its price is no longer a differentiating factor domestically. It also has competition from Porter (and its claim of "Flying Refined") and a host of soon-to-launch discount airliners, including JetLine and NewAir.
WestJet has gone from challenger brand to the brand to beat.
As it eyes international growth, an evolving customer demographic and a changing workforce, will its fun-loving attitude be enough to maintain blue skies?
No frills, but lots of fun
WestJet was almost called ABC Air, for its Alberta-British Columbia roots, according to Paul Grescoe in his book Flight Path: How WestJet is Flying High in Canada's Most Turbulent Industry.
The alphabet name was deemed too bland. Flying Eagle, FastJet, TekJet, Trekker and Altius were all considered before one of the company executive's mothers suggested combining "Jet" (which was a popular theme for discount airliners) with "West" (to honour the company's roots). It stuck.
The tone for WestJet's brand was set in an early business plan for the company: "The public will know WestJet as the Fun Airline. A sense of humor will permeate everything we do," it said.
The brand promised fares at least 55% lower than the competition, which became the basis for the launch campaign.
Created by Calgary's Creative Intelligence Agency, the inaugural $1 million campaign promised WestJet as a no-frills airliner. It targeted people who might have otherwise driven to their destination with a cheeky TV ad featuring a motorist trying to navigate a winter storm. "There's a better way to go," the announcer said.
It wasn't all clear skies in the early months. Lamberton admits the brand's ticketless way of flying – passengers received a confirmation number and picked up their tickets at the gate – caused some confusion among consumers. A big media push was necessary to clear it up, he says.
Canadian Airlines, Air Canada and Greyhound also struck back, lowering their fares to match WestJet. Canadian Airlines ran a campaign promising "No-frills fares. With all the frills," while Greyhound's ad featured a greyhound peeing on the wheel of a competitor's plane, saying "We're marking new territory," according to Grescoe.
More worrisome was a regulatory kerfuffle with Transport Canada, which caused WestJet to ground its planes only six months into its business. After a U.S. discount airliner crashed, killing all passengers on board, the government was particularly harsh on low-cost carriers. Before it could order a suspension of service for WestJet over safety concerns, the airliner voluntarily shut its doors, making an impromptu announcement and causing plenty of last-minute travel headaches for its growing customer base. When the airline re-opened 17 days later, an ad campaign with a historic photo of a pioneer family featured the copy: "Where would we all be if they had given up too? We've all been through a lot these past few weeks, as the saying goes… through adversity comes strength."
Despite the early setback, WestJet soared in popularity. (In fact, because of WestJet, air travel in general soared during this period. According to Statistics Canada, domestic air travel increased 19% in the first half of 1996 after 14 years of decline, attributing the increase to the low-cost carrier's entry into the market.)
In its first year, WestJet surpassed its targets, earning $37.5 million in revenue (with $2.5 million in profit). By 1997, it had carried its one millionth customer. In 1998, its revenue rose to $125.9 million – a 63% increase over the previous year, according to Grescoe.
Lamberton says much of the brand's early marketing focused on low prices, though it maintained a cheeky attitude through all its communication.
WestJet quickly earned its fun reputation: pilots would crack jokes from the cockpit, staff would board passengers based on the colour of their socks and the marketing team was adept at taking advantage of PR opportunities, such as giving tickets to anyone named Hamilton on its arrival in the city, or to those who shared a name with a prime minister. Its quality customer service (which many in the media, and everyone contacted for this article, attribute to its employee-owner culture), drove word-of-mouth, which was a key factor in its popularity growth.
Indeed, Lamberton says as the brand expanded into Eastern Canada, its reputation preceded it, and many routes weren't able to keep up with demand.
"If we started flying to Newfoundland – suddenly people thought Newfoundland was affordable," he says.
By 2001, the airliner had grown to 17 destinations, pulling in 14% of the domestic market. While it was making money, its competitors were folding or experiencing massive losses. (In 2001, Air Canada, for example, posted a $108 million loss to WestJet's $8.2 million gain, according to media reports at the time).
Its pirate attitude, taking on big carriers Air Canada and Canadian Airlines, helped propel its popularity in the early years, says Garneau. "Canadians view the airline industry the same way as the banking industry – a regulated oligopoly. If you didn't want to fly a major carrier, you were pretty much screwed."
Having the right routes at an affordable price, and a cheeky approach to air travel and advertising, helped set the brand apart from its competition, which all fell back on price.
"From the get-go, WestJet said it was different – and it really was – so it allowed the consumer to become a passionate, not a rational, advocate for the brand," Garneau says. "They gave consumers a reason to think there was something different in the airline industry."
Take its launch into Toronto in 2002: it took the westerners-poking-fun-at-Torontonians approach, according to Grescoe, with copy like "Finally, something affordable in Toronto," "We're new in town – don't freak out if we smile at you" and "It's okay to bring baggage into this relationship."
The Toronto opening added a new demo for WestJet: for the first time, the business traveller was also a key target for the brand, as they were attracted to an alternative to Air Canada (Canadian Airlines folded in 2001). The Toronto launch was successful. WestJet had to increase its capacity to seven flights a day to three cities just to meet demand.
WestJet's 'owners' take centre stage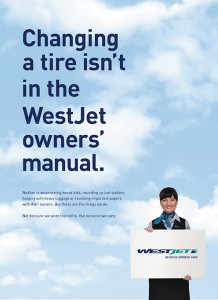 This marked the next shift in the brand's marketing evolution. With Lamberton's retirement in 2004, Bob Cummings, today EVP of commercial, joined as VP of marketing in 2005.
Just before his arrival, the brand began working with Taxi for TV ads, while retaining Creative Intelligence Agency as its AOR. Cummings says he struggles to remember any major marketing efforts prior to his arrival.
But as WestJet grew in size, he says it realized that to continue expanding and to reach a new business traveller, the brand had to examine what it stood for, opting for the first time to create a campaign to sell WestJet as a human brand that reduced stress. Until this point, most marketing had been retail-focused, he says. It was time for the brand to stop being thought of as a discount airliner and more like a national player.
Working with Taxi, the creative focused on the "Dos and Don'ts" of being a WestJet passenger, he says.
Dos included "Enjoy our comfy seats," while the don'ts were along the lines of "…but not too much," accompanied by someone making out with the leather; or "Do enjoy the leisurely atmosphere…but not too much," with folks creating a mosh pit in the middle of the flight.
It was a typical TV campaign, he says, with over-the-top messaging, and a clear branding tag at the end.
The ads tested well with consumers, especially younger ones, Cummings says, but then-CEO and founder Clive Beddoe ordered the marketing team to show the ads to employees. More than 800 people showed up to screen the creative.
Silence greeted the first commercial. "We got to the third one and people were starting to say, 'These suck,'" he remembers with a laugh. "By the end, people were practically booing."
The ads didn't reflect the culture of WestJet, some said, while others were embarrassed by the campaign's crass nature, worried what their parents might think.
Because it hadn't done a lot of television work, he says the brand didn't have much sway over the broadcasters and wasn't able to delay the sizeable media buy (the broadcasters gave WestJet three weeks to come up with a new campaign). So it scrambled to create a new one – at a cost of $50,000 – which was lukewarmly received, though it did have an ROI of 35%.
But the entire debacle had an upside: it sparked the idea for what would become one of the brand's most enduring campaigns. Considering the pride employees felt in their brand, someone in a meeting remarked that they were almost like owners – to which someone replied that, under the revenue-sharing program, they technically were.
"Owners" by Taxi, which became the AOR for WestJet in 2005, featured employees going out of their way to help passengers – includings tracking down a floral arrangement for a Hawaii wedding. The tag asked, "Why do WestJetters care so much? Because they're also WestJet owners." It gave a face to the brand: the employees themselves.
The campaign was a success, Cummings says. "It had a very strong run of seven to 10 years, and it blew other campaigns out of the water. You name it in terms of the top four or five metrics – it led the country [among its other marketing campaigns]." Even Rick Mercer spoofed the campaign ("Which is when you know you're a success," adds Robert Palmer, public relations manager).
It was "Owners" that cemented the brand in the hearts of Canadians, says Garneau.
While it had always been a plucky challenger brand, forcing the competition to match its offerings, its customer service truly was better, he says, and "Owners" drove that point home.
"Owners," while no longer consumer-facing, still lives on today in internal communications. The campaign was shelved externally when WestJet moved agencies to TBWA\Toronto in 2011, and then again to Publicis in 2013.
But by 2006, WestJet had captured 36% of the market share, while its brand awareness grew to 69%, up from 51% in 2005.
The brand also began targeting business travellers and vacationers more aggressively, opening up new routes to southern destinations in the U.S. and the Caribbean in 2006. According to articles published in the late 2000s, its share of the business traveller market had grown to 28%, up from 14% a few years earlier.
But amidst all this, the changes began to show: despite its reputation as a discount airline, its price gap with Air Canada was narrowing. And though it was still growing, that growth had slowed.
It would seem, as the world headed into the recession, WestJet was no longer the plucky, low-fare upstart. "It was the man," says Garneau.
A miracle campaign that went viral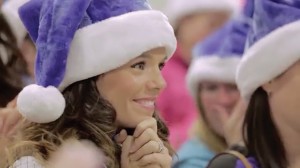 While the 2008 financial meltdown had a huge impact on the airline industry, WestJet was committed to expansion and maintaining its current staffing levels, says Cummings.
Though the brand grew 2.8% in 2009, it wasn't its most profitable year, and budgets were cut. As such, WestJet turned to social media – a more cost-effective way to reach people, he says.
In 2009, it hired its first social media employee, joined Facebook and began investing in new ways to reach audiences online.
The brand began to make a name for itself, finding its cheeky voice again on YouTube (such as an April Fool's video in which it promised to lower prices by filling planes with helium). But it was its sentimental Christmas videos that turned WestJet into a social media powerhouse.
In 2012, the brand released a Night Before Christmas-style flash mob. The video nabbed 1.7 million views.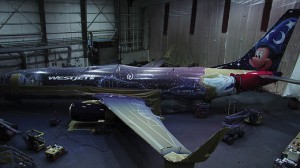 The following year, working with Studio M and Mosaic, it decided to give $25,000 worth of goods to passengers on two flights, based on their candidly recorded conversations in which they asked for gifts from Santa (woe is the man who asked for socks). That video swept the local award circuit, nabbed a Bronze Lion in Cannes, and today has more than 44.6 million views on YouTube. Its follow-up video used a similar theme, donating goods to the Puerto Plata community of Nuevo Renacer in the Dominican Republic, through which it flies, racking up 3.3 million views in the process. "Now, [for] our various experiential execution, we're partnering with Coke, Disney, The Ellen Show – it's like Spinal Tap, in terms of how we've evolved," says Cummings.
"Christmas Miracle" sparked a number of copycats and "giftvertising" became a huge trend the following year. Even competitor Air Canada got on board with its own gifting campaign in 2014 (pulling in an impressive 3.3 million views on YouTube).
But Garneau credits the lasting success of the original "Christmas Miracle" video on its authenticity. It doesn't feel like a marketing campaign from an ad agency, he says – rather, it felt employee-driven. It was the employees racing around a Best Buy to make the wishes of its passengers come true – and that's what resonated. It was the human face of the brand.
The skies ahead
Going forward, the brand will continue to invest in digital marketing, with more than 60% of its budget directed there in 2016, Cummings says.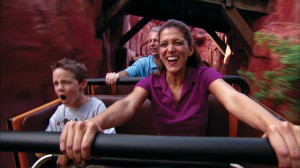 It's also going to continue to explore new ways of providing content to consumers. In 2013, it tried a 24/7 branded channel on TV, airing images of destinations and even the footage of a four-hour flight, with help from media AOR Media Experts. More than 300,000 weekly viewers tuned in over the course of the 12-week run.

But there remains a lot of unexplored potential in the content space, Cummings says – one day soon he imagines being able to plan (and book) an entire trip from the comfort of the couch, streaming videos of everything from the flight, to the hotel, to the popular attractions through smart TVs. Though that's still a few years off, "we plan on being on the leading edge of that," he says, and the airline is already working with Google and Facebook to see how it can better connect the viewing experience with booking.

Internationally, WestJet plans to start offering flights to London for less than $500 this year, though its international customer service – where Air Canada does an admirable job – won't necessarily be a differentiating factor, says Garneau.

WestJet should be prepared to face some turbulence, he adds. It can't play the little guy anymore, spouting funny lines to nab market share. Despite the promise from Cummings that it's still competitive on price for national flights, it's nowhere near the originally promised 55% cheaper. It's become responsive in many regards. For example, in response to NewAir's low fares (which took a page out of the WestJet playbook by offering cheap flights from only a handful of low-traffic airports), WestJet cut its own prices to remain competitive.

But Cummings isn't worried. As more brands embrace digital, having a human-driven brand is becoming more important than ever, he says. And WestJet is definitely a human brand.

It may not need to be the cheeky little upstart airline that could. It's the caring airline that did – and that's what the brand is banking on for the next 20 years.