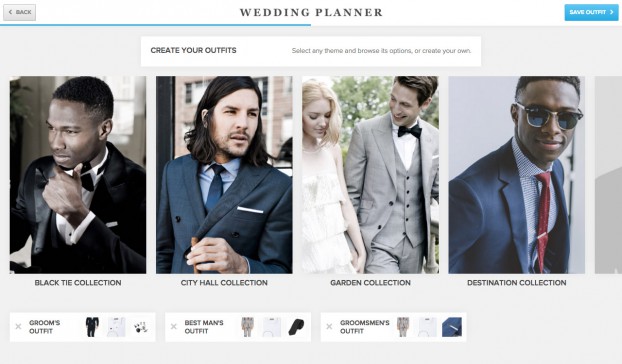 Who says the wedding is all about the bride?
Made-to-measure menswear retailer Indochino is going after grooms with its new online wedding planner platform.
Last year, the brand discovered, in part through its seven retail showrooms, that weddings accounted for about 30% of its business, says Peter Housley, Indochino's chief marketing officer.
Now, it wants to bring that shopping experience online with an improved user experience. Indochino's ordering process includes custom measurements, fabric selection and other customizations for suits.
The new e-commerce platform aims to make that process, as well as tracking order status and shipments, easier for the entire wedding party, Housley says. The new tool allows for group ordering management with a shared dashboard for entering each individual's information.
Indochino's customer is typically urban males between 25 and 35 but for the new tool, the range is wider, given that men in all demographics attend weddings.
Back in January, Indochino also pledged to suit up 25,000 grooms for free (when ordering for a wedding party of four or more groomsmen).
Indochino will continue promoting that offer, as well as the new wedding planner tool through Google and Facebook display advertising, retargeting and search engine marketing. The brand also works on content marketing and digital advertising with men's fashion and wedding-related media outlets.
Indochino is currently planning an international expansion, with plans for up to 150 retail locations in the next five years (its retail showrooms currently don't carry any inventory but are more for men to get measured and see fabrics and customizations). Earlier this month, it announced it has received a $42 million investment from Dayang Group, a global apparel manufacturer.