World Vision plays on bold promises
The organization spoofs bottled water advertising to hit home with its latest campaign.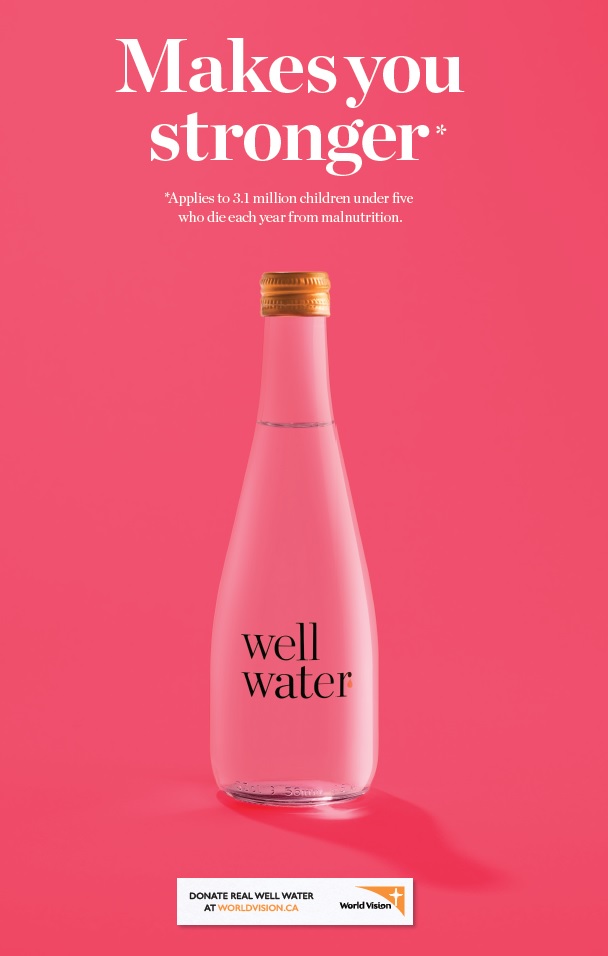 World Vision is eschewing a sombre tone in favour of a cheeky spin on drink advertising for its newest campaign.

Working with KBS Toronto's Cause Company arm, the brand launched a campaign for World Water Day earlier this week playing on the big promises that some products make.

The "Well Water" TV ad kicks off as any other spot for a packaged product might, touting "Well Water" as a product that will make its drinkers stronger and more productive.

The spot then cuts to villagers in South Africa with the voiceover explaining that though "Well Water" isn't a real product per se, it can in fact help improve the lives of 663 million people. The ad caps off with a call for Canadians to donate well water through World Vision.

The national campaign includes TV broadcast (30- and 60-second versions of the spot), digital, banner ads, OOH, and social media. KBS was the lead creative agency and executed the TV and OOH elements, while Real Interactive handled all digital elements. World Vision handled media internally.

For this campaign, World Vision wanted to move away from work that tackled similar issues but tends to just incite guilt among Canadians to get them to donate.

"We were really trying to move away from the use of either guilt or sadness and move to a place where we could empower people to be part of something new and fresh," says Lara Dewar, the NGO's chief marketing and development officer.

It was also trying to play on advertising for products like sports drinks or bottled water that makes bold statements about their benefits.

Apart from the "Well Water" campaign, World Vision and KBS also worked on a short online documentary for what the organization has called the Watercolour Project.

Working with actress Meghan Markle, World Vision travelled to Gasabo, Rwanda to collect watercolour paintings by children in the village, using water from their well. Twenty of those paintings were then sold at an event in Toronto Tuesday night (on World Water Day) to help fund another new well.

KBS and celebrity fashion photographer Gabor Jurina helped capture the experience for an online documentary, which was screened at the event.