Check it out: Mucho Burrito gets election fever
The QSR lets fans fight dirty to determine which limited-time product returns.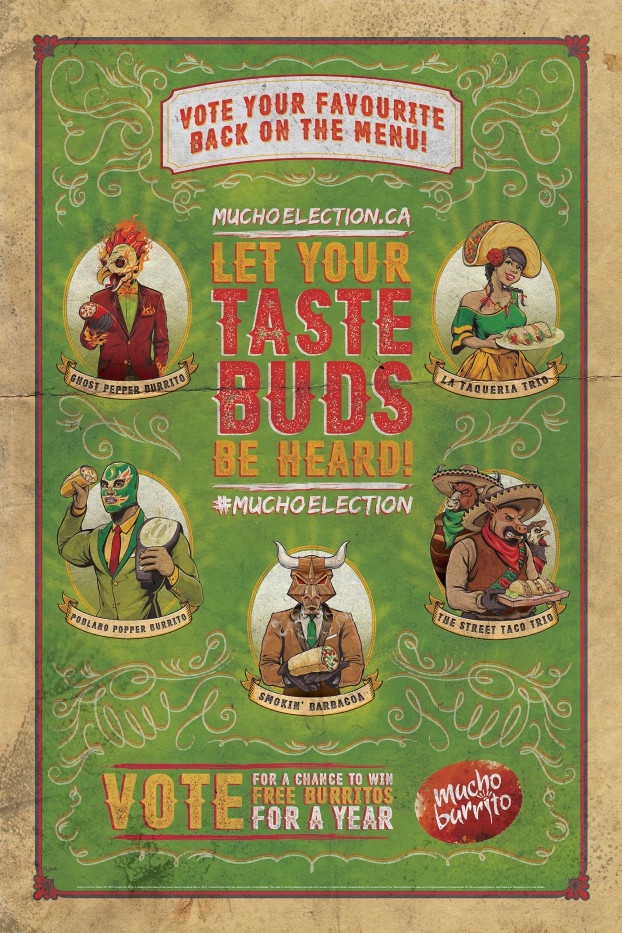 Mucho Burrito is helping Canadians who can't vote for our southern neighbours' next president satisfy their democratic itch by participating in the "Mucho Election" contest.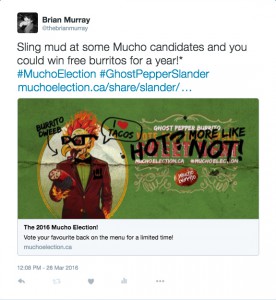 By going to the "Mucho Election" website, fans can read the "platforms" of five previous, limited-time products the QSR has offered, each of which has been imagined as a political candidate. By sharing their favourite candidate on Facebook or Twitter, customers cast a vote for which one they want to return to Mucho Burrito's menu for a limited time.

In the true spirit of any heated election campaign, Canadians can instead choose to "sling some mud" at the other candidates by sharing a version of the same image vandalized with somewhat childish insults. Every share (positive or negative) also gives Canadians a chance to win free burritos for a year.

"It wouldn't be a real election without some mud slinging and bribes," said Brian Murray, CD at DS+P, in a press release. DS+P has been the QSR's agency of record since its first campaign in 2011, and its work has attempted to break through in the category by "pushing the envelope" with bold messaging that still connects back to its food's Mexican roots.

The contest launched on March 23, and the winner will be announced on Cinco De Mayo weekend. The winning candidate will be "inaugurated" (i.e. added to the Mucho menu) on May 16.

"Mucho Election" is being promoted through digital display, social posts and point-of-sale materials. Cairns O'Neil handled the digital media buy.