Check it out: Tim Hortons relives some memories
Tim Hortons focuses on emotional connections by bringing back the "Every Cup Tells A Story" tagline.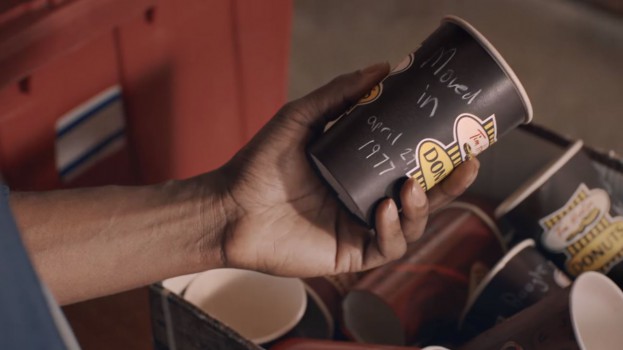 A new spot by Tim Hortons brings back a classic tagline to help show that one of its coffee cups can be a big part of many Canadians' lives.

In a recently-debuted ad by J. Walter Thompson Canada, a woman and her husband are helping her parents pack up and move out of her childhood home when they discover a box full of Tim Hortons' cups her dad has collected throughout the years, each one marked with a memory from the years they lived in the house. When her parents arrive with fresh coffee, her dad pulls out his marker to commemorate one last milestone.

The spot ends on the "Every Cup Tells A Story" tagline, last used in a spot in 2008.

Despite going back to the tagline, a classic TV commercial based around an emotional connection is a slight departure from other recent Tim Hortons advertising on a few levels. Some of its most attention-grabbing work over the last two years have been spots based on experiential activations (which have included NHL stars in a drive-thru, levitating customers, yarn-bombing locations, turning houses into restaurants, accomplishing holiday good deeds and creating dark stores, buses and booths). Those that weren't have been more playful and focused on launching new or limited-time products.

Last year, a series of spots around classic Tim's coffee took a practical approach, showing how the beans it chooses and how it prepares them contributes to the best-tasting coffee.