Shopper Innovation Awards: Tim Hortons' new level of chill
The QSR cuts the caffeine to boost cold beverage sales.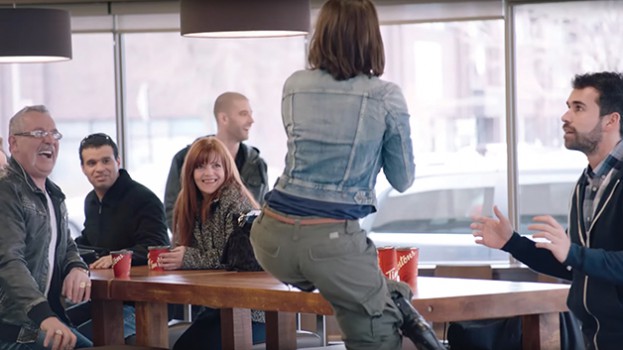 This story appears in the April/May 2016 issue of strategy.
Silver: Brand New!
Anchored by the successful Iced Capp, Tim Hortons was able to maintain a strong position in the cold summer beverage category. But the non-caffeine sub-segment was beginning to grow and the QSR wasn't getting its share of the market, so it decided to launch the Creamy Chocolate Chill, a decadent, caffeine-free frozen drink. The goal was to boost Tim Hortons' relatively stagnant overall cold beverage sales and sell 680,000 servings per week.
During sensory testing, people described the new beverage as a "heavenly chocolate treat." This inspired Tim Hortons' agency, J. Walter Thompson, to elevate the taste experience and communicate it in a visceral way.
The "A Higher Level of Chocolaty" activation saw the QSR team up with Canadian illusionist Darcy Oake to levitate a woman directly in front of real, unsuspecting Tim Hortons customers with the stunt captured on hidden cameras.
Content was turned into a 30-second TV spot, as well as behind-the-scenes videos for social media. Radio, OOH, digital and in-restaurant were also used to round out the launch.
In the first three months, Tim Hortons sold one million servings of Creamy Chocolate Chill per week, 42% more units than forecast. While the brand and agency expected a 50% cannibalization of its Iced Capp, Creamy Chocolate Chill sales were entirely incremental to Iced Capp sales, achieving an 18% sales volume ratio to Iced Capp (versus a 13% planned ratio).
Tim Hortons Creamy Chocolate Chill achieved 46% market share of the QSR shakes/malts/floats category during its first three months post launch (from May to July 2015), achieving 3.6 times more volume than McDonald's shakes. In addition, the Creamy Chocolate Chill videos were viewed more than three million times on YouTube (as of July 2015).
Credits Advertiser | Tim Hortons
Agency | J. Walter Thompson
CCO | Brent Choi
VP, CD | Matt Syberg-Olsen
ACD, AD | Nicole Ellerton
ACD, CW | Mark Lewis
Strategist | Dean Foerter
Creative consultant/illusionist | Darcy Oake
Production company | Untitled Films